Thursday, July 19th, 2007
Cougars back for another IFL campaign
By Gary R. Rasberry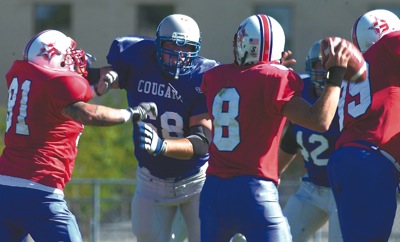 As is the case with any team, the Mercer County Cougars have seen familiar faces depart after last season, while others step into the blue and white jerseys this season for the first time.
The semipro football team based out of Fort Recovery enters their fourth year in the Interstate Football League coming off an 8-2 regular season, losing in the second round of the playoffs, 7-6, to eventual Interstate Bowl runner-up Classic City Crush.
Several big personnel changes came up this season as long-time quarterback Adam Wenning hung up the pads after three successful seasons. Other vets like Colin Bechtol, Cody Overman, Kirk (Smoke) Link and Chris (Guggs) Guggenbiller also called it a career in the offseason.
Jose Faller, who came back late last season after serving the past several years in the Army overseas in Iraq, returns full time this season along with Eric Schmitz and Kevin (Pork) Wehrkamp to handle the day-to-day operations of the team while suiting up as well.
"We've got a lot of youth and experience this season," said Faller, who will play fullback and linebacker. "I think they'll come up big for us."
It helps that the team has made the playoffs the last three years, going a combined 20-6 in the regular season. The current Cougars roster has 29 players.
"That's what we were hoping," said Faller about attracting interested younger players. "We picked up more players from Coldwater and picked up a few young players from Fort Recovery. Maybe we'll spread it out and get guys from St. Henry and Marion to round the team out."
With some of the older players gone, younger players, several who earned diplomas just this past spring, have stepped in to help the team.
The league lost a couple of teams as Noble County and Madison County both will not field teams this season.
The Cougars add receiver/defensive back/kicker Trevor Stromblad, who was a key to Coldwater's 2005 state-title run. Stromblad becomes the first regular kicker the team will employ after Wenning handled most of the extra-point and field-goal chores. Fellow former Cav Devin Swartzel joins veteran Justin Kahlig in handing the receiving/secondary spots.
Former Fort Recovery quarterback Brad Bretz takes over as the Cougars signal caller. Bretz is second on the all-time list at Fort Recovery for yards and completions after finishing his football career in high school in 2000.
"It has been six years now," said Bretz. "I just started throwing in pads a couple of weeks ago. It didn't take long to get back used to it. I'll have Jon Kaup (another former Indian who is the all-time leader in pass receptions and receiving yards) to throw to and some of my old linemen. It'll be fun."
More recent Fort Recovery grads Tony Diller and Dusty Guggenbiller - who currently is out with a broken collarbone - will also play for the Cougars, handling receiving and defensive back duties.
The running game will stay strong as Chad Timmerman returns and he'll get some help from another recent Fort Recovery grad in Matt Tobe, who rushed for 666 yards and five touchdowns last season.
The offensive line is where a lot of the retirements hit hard. Zach Sudhoff and Doug Everman are both gone. Veterans like Dusty Johns, Jeremy Link and Wehrkamp will need help from newcomer Tyler Grieshop to help keep the line fresh.
Behind the defensive line, the leaders are back with Minster High School football coach Eric Belcher handling the secondary with linebackers Ron (Bull) Kahlig getting help from Greg Faller and Eli Grieshop in the middle. Dale Everman and Ryan (Butterbean) Rosenbeck will man the defensive line.
The season begins Saturday at rival Darke County. The Cougars play their home opener on August 4 at Barrenbrugge Park against the Indiana Generals.

Cougars Schedule:
July
21 at Darke County
28 at Kosciusko County
August
4 Indiana
11 at Classic City
18 West Ohio
25 at St. Joseph County
September
8 South Central
15 Darke County

Home games begin at 5 p.m. and are played at the Barrenbrugge Athletic Complex in Fort Recovery.

Cougars Roster:
# Name Ht. Wt. Pos.
1 Trevor Stromblad 5-11 165 WR/DB/K
2 Jon Kaup 6-1 175 WR/DB
3 Greg Faller 5-10 210 FB/LB
5 Chad Timmerman 6-0 185 RB/LB
6 Dale Everman - - DL/OL
7 Brad Bretz 6-0 200 QB/DB
8 Justin Kahlig 5-9 165 WR/S
9 Tyler Wuebker 6-1 210 WR/DB
12 Jose Faller 5-10 250 FB/LB
14 Devin Swartzel 6-2 195 WR/DB
21 Matt Tobe 6-0 190 RB/LB
22 Kevin Schoenherr 6-2 210 TE/DB
23 Tony Diller 6-0 185 WR/DB
25 Dusty Guggenbiller 6-0 190 WR/DB
26 Eric Belcher 6-1 190 DB/WR
33 Eric Schmitz 5-10 205 DB
34 Pat Hart 5-9 185 LB
35 Eli Grieshop 6-0 205 RB/LB
44 Aaron Guggenbiller 6-0 230 RB/LB
50 Tyler Grieshop 5-10 245 OL/LB
51 Jeremy Link 6-2 275 DL/OL
63 Brad Yerick 6-2 250 DL
64 Jason Wenning 6-0 215 LB
65 Jon Homan 5-10 255 OL/DL
66 Al Rinderle 6-1 220 DT/DE
68 Ryan Rosenbeck 6-4 290 DL/OL
70 Kevin Wehrkamp 6-0 290 OL/DL
73 Dusty Johns 6-2 285 OL/DL