Thursday, July 26th, 2007
Brought back by trained 'angels'
By Margie Wuebker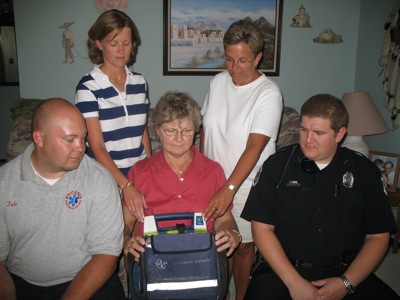 COLDWATER - Kay Seibert feels blessed to have so many guardian angels - two neighbor women trained in CPR, five dedicated emergency medical technicians and a police officer with an automated external defibrillator (AED).
Without them, the 62-year-old woman would have died on a curb along Cecelia Drive the night of July 17.
Kay and hubby John were walking home after visiting their son and daughter-in law, Chris and Renee Seibert.
One minute the couple was talking about an upcoming vacation in Colorado and the need for antacids to combat an earlier meal of chicken chili. In the next, people were fighting to save Kay's life.
"I felt something brush my arm and then Kay fell backward hitting her head on the curb," John Seibert says. "Her eyes rolled back in her head and she wasn't breathing. I thought I had lost her after nearly 42 years and all I could do was ask God to bring her back."
Jodi Weigel and Cindy James were seated around a backyard campfire enjoying the beautiful summer night and roasting marshmallows. They saw her fall and sprang into action.
James, a secretary in the obstetrics department at Mercer County Community Hospital, called 911 while Weigel, a registered nurse with Coldwater Exempted Village Schools, ran to Kay's side.
She initiated CPR in the absence of respiration and pulse. James arrived momentarily and both women worked steadily over the longtime Chief supermarket deli clerk. They said they did not have time to exchange worried glances or notice the number of people coming to the scene.
The couple's son Chris also rushed to his mother's side, as she was just one block from his home
"Mom, breathe! Come on Mom, you gotta breathe!" he urged.
First responder Kyle Gerlach planned to visit his mother that night and was headed toward the car when the emergency call came over his portable radio. Obeying the speed limit was the last thing on his mind. Someone was down and not breathing with CPR underway. Precious seconds were ticking away.
"I looked in the rear view mirror and saw a police cruiser with lights flashing," Gerlach recalls. "I kept on going."
Patrolman Jason Miller heard the same radio transmission and immediately abandoned plans to deliver a dog cage. The police department's lone AED was in his cruiser.
The men arrived on the scene with Gerlach taking the lifesaving device from Miller and sprinting toward a circle of people. Everything seemed to take place in rapid-fire motion with Gerlach pushing the button to deliver the first jolt of electricity. There was no response other than another gasp. Weigel detected an irregular pulse following the second jolt.
Coldwater EMTs Shaun Seitz, Bonnie Fortkamp, Joan DeArmond and Josh Hemmelgarn arrived with flashing lights and blaring sirens. The mother of three and grandmother of 10 began responding in the ambulance. She told squad members her name and asked "What happened to me?" as the vehicle approached Community Hospital.
A CareFlight helicopter transferred her to Dayton Heat Hospital, where cardiologists determined she had suffered a sudden cardiac arrest, which one specialist described as an electric storm. No blockages or abnormalities were found during a cardiac catheterization. "They put in a defibrillator to jump start my heart if something like this ever happens again," Kay Seibert says. "I'm feeling pretty good but I have no memory of what took place that night."
Doctors released her two days later with orders to recuperate for three weeks before resuming regular activities. They credit the fast response with CPR and AED as the difference between life and death.
Family members have contacted the American Red Cross regarding certificates of merit for Weigel and James. They also would like to see AED units placed in the other two police cruisers.
Squad members are still "pumped up" because the outcome in such scenarios is seldom positive. Gerlach hopes area residents will be motivated to obtain CPR training as a means of being prepared in the event of an emergency.
"We can't take credit for any of this," Weigel says. "God was completely in control of the situation. Everything fell into place at his direction."
Kay Seibert looks around the living room during an impromptu reunion with the people who came to her aid.
"Guardian angels come in all sizes," she says. "I am here today because of you angels. Thank you from the bottom of my heart."

Cardiac arrest symptoms:
More than 200,000 Americans die each year as a result of sudden cardiac arrest (SCA) - an interruption of the heart's electrical system.
Victims, like Kay Seibert of Coldwater, collapse and lose consciousness often without warning. Death occurs within minutes if normal heart rhythm is not restored.
The American Red Cross estimates up to 50,000 lives could be saved if someone had initiated the Cardiac Chain of Survival and an automated external defibrillator (AED) had been available for immediate use.
The four steps in the Cardiac Chain of Survival include: early access to care (calling 911), early administration of CPR, early defibrillation and early advanced cardiac life support. All the steps must be present in order to ensure survival from sudden cardiac arrest.
- Margie Wuebker