Thursday, July 26th, 2007
Everybody loves a parade
Diegel family tradition continues with the next generation chairing the Celina Lake Festival Grand Parade
By Betty Lawrence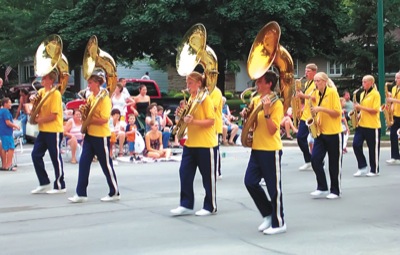 The Celina Lake Festival Grand Parade - one of the largest in the state - has been a big part of the Diegel family for more than 20 years.
Monte Diegel of Celina had organized the popular event for two decades. Helping him along the way were his two sons, Tyson and Randy. Even his wife, Bert Diegel, has helped at times.
When Monte Diegel bowed out as parade chairman a few years ago, his son Randy decided to follow his father's footsteps and step up as parade chairman.
"I helped Dad a lot with all the parades, actually most of my life," Randy Diegel, 23, says. "I wanted the challenge."
The 150-unit parade begins at 6:30 p.m. Saturday, with a Goldwing motorcycle, collector car and antique tractor parade kicking off the event at 6:15.
"He (Randy) just grew up with it all his life," Monte Diegel says. "He's not afraid to ask questions, and he'll do a fine job as chairman."
Lining up all the entries for the parade is the hardest part, Randy Diegel feels.
"I try to space out the bands and floats and the animals are put toward the front, not the back. That's so they don't overheat. City officials and the veterans go first," he says.
If an animal has to relieve himself, there are people walking the parade route with pooper scoopers in hand, he says.
The thousands of people who gather along the parade route seem to like the floats best, Randy Diegel says. The bands also are a popular attraction.
"But I never see the parade because I have always been at the starting point, lining everyone up," he says.
On Saturday the Diegel family will be at the parade's starting point, marking the individual entry spots with chalk. They will be there all day getting ready for the evening parade, and when the parade is over, they will clear the area before heading home.
Monte Diegel says the biggest change during his 20-plus years chairing the parade is when the route changed from being strictly a Main Street parade to its current route.
Randy Diegel says this first year as chairman will be a learning experience.
"People will call in entries up until the day of the parade," he says. "The parade is getting close and people are calling a lot now. Next year, it should be a little easier."
Monte Diegel says he will be there, working side-by-side with his son on the day of the parade.
"It's really nice to still have our name associated with the parade committee," he says.