Friday, July 27th, 2007
Amphicars recognized for their flash and splash
By Shelley Grieshop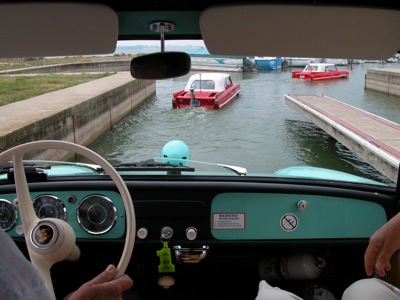 Brad Swager was looking for a car that stood out. One that got people's attention and made a statement.
A corvette fulfilled his desire at first, says the Stillwater, Minn., resident, but later he decided the flashy sports cars were just a dime a dozen.
Then he and his wife, Jill, stumbled across a white Amphicar and fell in love.
"People don't believe you when you tell them it floats," says Swager, 47, of the retro-looking, car-boats cruising around the county and floating in Grand Lake this week.
The Swagers traveled to Celina for the eighth consecutive year to participate in the 11th annual Amphicar Swim-In, slated to begin at 7:45 p.m. tonight at the hot water hole along Lakeshore Drive. In case of inclement weather, organizers will air festival changes on WCSM radio station.
The event is part of the Celina Lake Festival, which kicks-off today and continues through Sunday.
"As long as they hold this festival and invite the Amphicars, we'll keep coming," says Jill Swager. "We love this town, the people are great and the accommodations are wonderful. People here really make us feel at home."
This year the Swagers have a new fjord green Amphicar, which Brad restored this winter. It will take its maiden voyage tonight.
Mike Bayman, who organized this year's gathering, says the popular event at the hot water hole is the major event of the year for the International Amphicar Owners Club.
"We love it here. The city is so nice to us. The police even give us an escort to the hot water hole," he says.
Bayman says at least 40 Amphicar drivers have registered for this year's event, not quite as many as 2002 when 64 of the German-made vehicles took turns splashing into the lake.
"I think gas prices are having an effect on people this year. Most of these drivers come from out of state," he says.
Amphicar owners have come to the local Swim-In from as far away as California, Canada and England.
Fourteen years ago the group began meeting annually in New York, where the president of the club resided. The location later changed to Celina at the suggestion of a few Midwest members and 14 Amphicars arrived in town that first year.
In 2001, alternate sites were suggested to find a midway point for the entire group. But when members attempted to calculate the exact "center of the Amphicar world," Celina was found to be less than 64 miles from the absolute center (technically it's in New Castle, Ind.). Close enough, they figured, and the group decided to make Celina their summer destination.
Mike Echemann of Downers Grove, Ill., has five Amphicars and calls them "magical."
"The looks on the kids' faces is priceless when they see us drive straight into the water," he says.
Echemann has roots in the local area. His mother, the former Shirley Oldiges, is a Minster native, and his father, Ted, grew up in Sidney.
The Swagers admit their funny looking vehicle causes a bit of confusion at times. There have been 911 calls of "man in the water in his car" for as long as there's been Amphicars, he says. And then there's the question that gets asked so frequently the club has made T-shirts with the words: "Does it float?"
Yes, it floats, as long as the bilge plug is secured beneath the vehicle, near the propellers.
Billy Syx of Mays Landing, N.J., who also is known as the Splash King for routinely hitting the water at 50 mph, has gotten his share of funny responses from passengers. While giving an Otterbein-St. Marys resident a ride last year, an elderly woman quickly noticed when the smooth cruise encountered a rocky wave.
"She whispers to me, 'Slow it down, son, those are speed bumps,' '' he recalls with a laugh.
Amphicars aren't complicated machines and drive like most cars on land. When it's time to enter the water, the land transmission is switched to neutral and dual propellers are engaged. The front wheels become rudders ... and soon they're swimming along.
"You don't need a trailer to haul it to the water. If you're driving down the road and decide to swim, you drive in and swim," Brad Swager says.
With their three children now grown, the Swagers do their share of "lake hopping."
"Where we live there are 23 Amphicars, the most in one area in the United States, partly because of the 10 lakes we have close by," Jill Swager says.
The couple drive a little, float a little and drive and float some more - all weekend if they want to, they say.
"Who'd ever do that with a boat?" Brad Swager says with a smile.

Did you know:
Amphicars:
• Were designed and built as amphibious prototypes developed by Hanns Trippel of Germany. Only 3,878 were manufactured from 1961 to 1968, and it's estimated that less than 500 are currently functional or in various stages of restoration.
• Travel about 6 knots (7 mph) in the water and 70 mph on land, thus their model numbers all are "770."
• Are valued between $10,000 and $50,000.
• Have rubber seals and a bilge plug, like a drain plug, to keep water from entering when leaving dry land. An electric bilge pump expels any water that may splash or leak aboard.
• Are mostly identical - all have two doors - and were manufactured in just four colors: regatta red, lagoon blue, beach sand white and fjord green (aqua).
• Have a land transmission that is a 4-speed-plus-reverse unit similar to those found in old Volkswagen Beetles. The unique water transmission is a 2-speed featuring single forward and reverse gears. The front wheels act as rudders in the water.
• Can get at least 35 miles per gallon of gasoline on land; on water they use about 1 to 11/2 gallons of gasoline per hour.
• VIP owners include President Lyndon Baines Johnson, singers Madonna and Alan Jackson and actor/comedian Dan Akroyd.
- Shelley Grieshop