Friday, July 27th, 2007
St. Henry bows out of tourney
By Gary R. Rasberry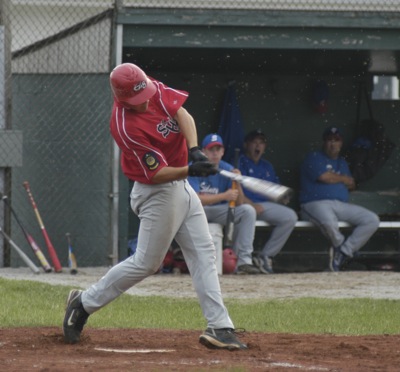 SIDNEY - St. Henry American Legion Post 648 ended its summer baseball season as Sidney Post 217 got two home runs in the first inning and charged on to a 14-2 win via the seven-inning run rule in the District Two championship game at Custenborder Field in Sidney on Thursday.
Sidney (27-14) advances to the state American Legion Tournament beginning August 6 in Athens. St. Henry, returning to the field for the first time in several seasons, finishes the year at 21-18.
"Sidney's a great team," said St. Henry coach Mike Moorman. "Hat's off to them. They're loaded with talent. They could absolutely hit the crap out of the ball.
"We had a good season. We bounced through some things with ACME in getting all the guys together. When we came together, we found out how good we could be."
St. Henry needed to get out to a good start to get the first of two wins needed to eliminate Sidney, the team that sent Post 648 to the loser's bracket with a 10-2 loss on Sunday.
Post 648 starter Brent Kremer got things started by getting Shane Delligatta to pop out, but then gave up a single to Colin Puthoff and walked Jude DeLoye, who had three homers in Sunday's contest. Jared Hoying stepped up and brought everyone home with a home run to center to make it 3-0. Caleb Vorhees followed with a homer of his own to make it 4-0.
Kremer lasted just 11/3 innings before Trevor Kill came in. Kill was greeted by a DeLoye double, scoring two more to make it 6-0.
St. Henry averted the shutout in the bottom of the second as Bob Inskeep scored on a Riley Muhlenkamp groundout to make it 6-1.
The game officially got out of hand in the top of the fourth as Sidney sent 10 men to the plate and scored five times. In the fifth, DeLoye belted his fourth homer against St. Henry in the tournament to make it 12-1 Sidney and forced Kill off the mound. Nick Eilerman came in and finished the game, allowing two runs over the last three innings of play.
The final St. Henry run came in the bottom of the fifth. Tyler James singled to left and after Derik Snyder walked before Tyler Norton moved the runners up with a groundout. Jensen Painter then singled in James to make it 12-2.
Sidney scored twice in the top of the seventh to cushion its double-digit lead.
Wes Hunsucker went six innings for Sidney to earn the win and Versailles' Jon Richard closed things out in the seventh.
DeLoye left Custenborder Field with plenty of hardware. In addition to being named the District Most Valuable Player, he earned the Tournament MVP by batting .692 with five home runs, 10 RBI and a slugging percentage of 1.923.
Pfeffenberger concluded a big tournament with a 2-for-2 night. Pfeffenberger went 12-for-16 in the tournament (.667 batting average) with three doubles and a home run.
"Going into next year, we should be back on the same track with missing just two kids with age," said Moorman.
"Can't say enough about the kids. Coach Schwieterman and coach Firks (Post 648 assistants Craig Schwieterman and Justin Firks) did a great job helping me out and all the kids were very good."