Monday, August 20th, 2007
Hot time in Bremen
By Margie Wuebker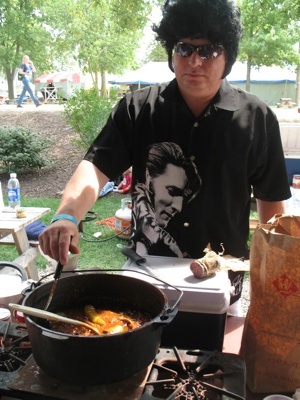 NEW BREMEN - The aroma of chili wafted through The Crown Pavilion Saturday morning as 44 teams came from near and far to vie for trophies and bragging rights in the annual Bremenfest Chili Cookoff.
Local residents Troy Suchland and Allen Garber are no strangers to the competition - they have been cooking up entries for 10 to 12 years.
"We change our recipe a little each year trying to please the people as well as the judges," Suchland says stirring a hearty concoction of kidney beans and meat in a tomato base.
Habanero peppers set their entry - Chief Colon Pow - above all the others, according to Garber.
"The peppers add a little bit of flavor," Suchland explains. "Our chili is not spicy; you have to wait a bit for the heat to kick in. Oh yeah!"
The interesting name simply materialized as the pair combined ingredients. They claim it has a rather interesting ring.
Beth Maurer and Steve McKeehan don't rely on fancy names. Just Chili accurately describes their flavorful entry.
"We do a lot of tasting while adding ingredients until the flavor is just right," Maurer says. "This chili is less sweet than last year when we took third place."
Barry Bonds Chili reportedly has magic properties, according to before and after pictures of the baseball star. Healthy doses repeated at regular entries turned the once puny athlete into a home run-hitting machine.
Jon Moore, Craig Nelson and Matt Opperman collaborated on the stick-to-your-ribs effort. A delicious aroma spews forth when Moore lifts the dutch oven lid. Sweet peppers float amid the beans and ground beef.
"The secret to making award-winning chili is lots of time and plenty of love," Moore says. "The overall effect is better than steroids. Just look at Barry if you have any doubts."
Sandra Turner traveled all the way from Rochester, N.Y., for the hometown competition. Her entry - Red Hot Chili Chicks and Chicos - contains sausage, hamburger and pork mixed with tomatoes from her parents' garden (John and Carol Turner of New Bremen) and special sauce she brought from New York.
"I stick with my aunt's recipe," Turner says stirring the flavorful mixture. "Why change the recipe when it works. Two years ago it took first place."
Joey and Nancy Armstrong of Piqua are back for a second time with Saturn Chili. The name comes from the solar system but the full explanation is best left to conjecture.
When asked about the secret ingredient, mischief dances in his eyes and he thinks for a moment before adding "Would you believe simmering squirrel meat? No, I didn't think so. The real secret is charring jalapenos over an open flame until they turn black. The flavor is out of this world."
Bryan "Bubba" McNeal of Enon is no stranger to outdoor cooking. He prepares all the fare for tailgate feasts prior to Ohio State football games at "The Horseshoe."
The chili recipe, which has evolved over the course of three years, includes layers of flavor featuring stew meat, hot Italian sausage, hamburger, pork loin, five kinds of beans and assorted spices. Beer and a generous splash of tequila add the finishing touch.
"There's a lot of love in this pot not to mention 37 ingredients," he says. "This is truly a culinary work of art."
Village councilor Craig Meyer has solved the mystery surrounding the death of Elvis "The King" Presley. The sign accompanying his "Prescription Chili" reads "30 years ago it wasn't the drugs Elvis died from; it was the soup."
Meyer, wearing an Elvis shirt and trademark black pompadour, began taking care of the chili business at 8:30 a.m. after sleeping in a bit.
"It doesn't take long," he says. "You just throw a bunch of stuff together and hope it turns out."
New Bremenites Dana Miller and Russ Bertke scrape the bottom of the kettle serving up a final taste of Souppe Vom Tag. This year's entry has been toned down to include less spices from a canister marked "Slap Your Mama."
"We had to tone it down a few notches because we nearly killed some old people last time," Miller says. "I'm only kidding. One woman did choke because the generous degree of spices took her breath away."

The winners:
Honors in the Bremenfest Chili Cookoff went to:
• First place - Joey and Nancy Armstrong, Saturn Chili, entry sold to New Bremen American Legion Auxiliary and Sons of the American Legion (SAL), $1,000.
• Second place - Chris Thobe and Seb Krieg, Community Chili, entry sold to First National Bank for $200.
• Third place - Tony Ritter and Scott Temple, Large Mouth Chili, entry sold to New Bremen American Legion Auxiliary and SAL for $150.
• Fourth place - Beth Maurer and Steve McKeehan, Just Chili, entry sold to Bill and Pam Wente for $250.
• People's Choice and Best Name - Troy Suchland and Allen Garber, Chief Colon Pow Chili.
Proceeds from the chili auction benefits the New Bremen Emergency Squad.
- Margie Wuebker