Monday, August 20th, 2007
Bretz has huge day passing in Cougars' blowout win at home
By Gary R. Rasberry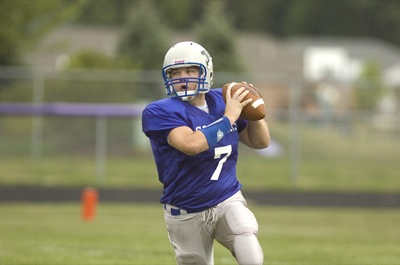 Compiled by Gary Rasberry

Mercer County shook off an early turnover that resulted in a touchdown and pulled away in the second half for a 41-7 win over the West Ohio Wranglers at Barrenbrugge Park in Fort Recovery.
The win puts the Cougars at 3-2 on the season while the Wrangers fall to 1-4 with the loss.
The Cougars got off to a slow start, losing the ball on a fumble on the second play of the game. Dan Meyer took the ball back to the three, where Eric Enriquez scored to make it 7-0 after the Meyer extra point.
The early setback was no problem with the success that the Cougars were having through the air behind quarterback Brad Bretz.
Bretz was 5-of-11 for 231 yards and all five passes went for touchdowns.
The Cougars got on the board in the second quarter, when Bretz found Justin Kahlig for a 55-yard scoring pass with 10 minutes left in the half. The extra point was missed leaving West Ohio with a slim 7-6 lead.
With less than a minute left, Bretz found Jon Kaup for a 42-yard score to put the Cougars up for good at 14-7 when Bretz fired a two-point conversion pass to Kevin Schoenherr with 36 seconds left.
The Cougars exploded for 20 points in the third quarter. Bretz hooked up with Kaup for a 75-yard touchdown on the team's first series of the half. After another Bretz touchdown pass, Justin Kahlig picked off a Wrangler pass for a 38-yard interception return touchdown with 4:03 left in the quarter.
In the fourth, Bretz and Kaup hooked up for the third and final time, pairing up for a seven-yard pass to conclude the scoring.
Kaup made three catches for 124 yards and three scores.
Meanwhile, the defense clamped down on the Wranglers, holding them to negative 31 yards rushing and just 35 yards of total offense.
The Cougars go to Indiana this Saturday to face the St. Joe County Thunder. After a Labor Day bye week, the Cougars conclude the season with two straight home games.