Tuesday, August 21st, 2007
Photo by Mark Pummell
Memorial High School band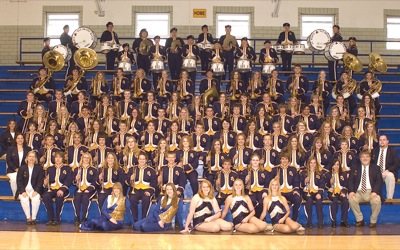 2007 St. Marys "All-Brass" Marching Band members:

Baritones (16):
Megan Bruggeman, Dan Bubp, Cassi Charboneau, Beth Doenges, Kerri Heitkamp, Andrea Helmstetter, Tyler Hertenstein, Josh King, Pat Larkin, Kayla Lengerich, Jennifer Menker, Kelly Ruppert, Carissa Smith, Ian Stacy, Tony Wilker and Erica Yahl.

Trombones (18):
Jameel Brenneman, Sarah Byer, Carla Cooper, Nicole Dine, Kiera Fenwick, Kelly Fritz, Ursula Garman, Travis Hertenstein, Brooke Lengerich, Austin Lotz, Seth Norman, Charleston Powell, Sarah Scott, Ashley Slone, Katie Spellmire, Emily Steva, Abby Wiley and Angie Wilker.

Sousaphones (11):
Taylor Dicus, Victoria Hirsch-feld, Jarrod Kinkley, Tony Moeller, Brandon Moran, Zach Platt, Ashley Schlegel, Hillarie Severt, Abby Slemmons, Jo Steva and Eric Wilker.

Mellophones (16):
Sarah Bailey, Annie Boninsegna, Brittany Bowersock, Lindsey Briggs, Rachel Bubp, Mike Crusie, Whitney Hagan, Stephen Hunter, Joseph Jacks, Kiley Liggett, Colin Meckstroth, Sydney Nelson, Shelby Patlon, Nick Puccio, Colette Stroh and Alyssa Williams.

Trumpets (37):
Mike Ayers, Emily Bayham, Ethan Bryant, Paul Carmean, Meredith Dodds, Jordan Dressman, Natashia Gilmore, Ryan Gossard, Bethany Hawkey, Michelle Hicks, Bradley Hogshead, Ashley Howell, Blaise Katter, Ashley King, Scott Kinkley, Megan Klein, Corey Lutterbeck, Allyson Lutz, Samuel Moeller, Katie Muhlenkamp, Alysia Nagel, Kaycie Nelson, Amanda Newlove, Rachael Osmon, Riley Parent, Amanda Rupard, Megan Schlater, Tom Scott, Emily Shellabarger, Kayla Stacy, Kristi Steva, Darcy Storer, Heather Sudman, Samantha Taylor, Laura Vogel, Michael Wiley and Chrissy Williams.

Percussion (19):
Nick Ahlers, Eric Anderson, Scott Anderson, Joseph Brenneman, Ashley Bubp, Ryan Burke, Ben Dennings, Ben Dull, Geoff Frazier, Jordan Germann, Torie Hile, Haylee Kill, Ed Larkin, Shawn Mann, Lauren Miller, Kelsey Smith, Robby Thomes, Nick Wilker and Tanner Zizelman.

Twirlers (4):
Trina Brown, Emily Dicke, Alicia Imber and Katie Laux.

Drum Major (1):
Josh Barnes.

Field Commanders (3):
Katie Post, Jessica Prenatt and Marissa Wenning.
Additional pictures for this date



Photo Albums
Thursday, March 23

Wednesday, March 22

Saturday, March 18

Wednesday, March 15


Online Video
Saturday, February 4