Wednesday, August 8th, 2007
Life's a juggle for Mercer County 4-H teen
Family tragedy sparks continued dedication to county fair duties
By Shelley Grieshop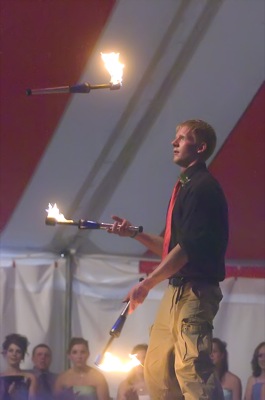 The red stripe from the top of the Junior Fair tent casts a cherry tint across Craig Muhlenkamp's face as he and others decorate for the king and queen pageant Tuesday afternoon.
At 18, Craig is one of those 4-H dynamos. Despite the killer heat outside, he's everywhere - helping the younger kids with their projects, giving them advice before livestock shows and often just spreading a contagious smile that everyone has come to expect.
"I just feed off the younger kids' energy," he says, during a quick break in the action at the Mercer County Fair.
But tragically, the past year has brought more heartache than smiles to the Muhlenkamp family of Coldwater. After battling cancer for nine months, Craig's father, Ken Muhlenkamp, 52, died on May 11.
It was close to fair week last year when Ken Muhlenkamp lost his appetite and began to lose weight. On the day of the Junior Fair king and queen contest, Craig remembers noticing that his father's skin was subtly jaundiced. Soon after, doctors diagnosed a tumor and Ken Muhlenkamp began treatment.
Ken Muhlenkamp taught his children how to care for the dairy cattle they raised. But when it came to fair week, there was no hand-holding. If the boys wanted to show dairy cows, it was their responsibility all the way, says Craig, the youngest of six boys.
"He made us do the work," he recalls with a grin. "But he always came out to watch the shows."
Craig, a member of the Coldwater Explorers 4-H Club since age 9, is showing dairy cows again this year at the fair - his last year as a participant in the Junior Fair because of age restrictions. He also entered a self-determined project, which features his passion for juggling.
"I learned juggling in elementary school, but I wasn't very good at it," he says.
About two years ago he began honing his skills. Earlier this year he went to see professional entertainer Mad Chad Taylor, who juggles bizarre objects.
"I'd like to try (juggling) chain saws," Craig adds matter-of-factly.
He has showed off his juggling skills at area talent contests and even gave a performance Tuesday night at the king and queen competition at the fairgrounds.
He's enjoyed his reign as king, riding in parades and giving speeches about 4-H and its benefits - something he totally believes in.
"I loved being a camp counselor," he adds.
Craig admits helping organize the coronation festivities Tuesday evening was hectic and a lot more work than he thought it would be. But the event went off without a hitch, and Junior Fair coordinator Barb Phares wasn't surprised.
"Craig's a really neat kid. I remember when he said he wanted to be an engineer and I thought, 'No, that's just not him,'" she recalls. "Then one day he came into my office and said he'd decided to be a teacher, and I almost cried. I always wondered how long it would be until he realized working with kids is his future. He needs to be a teacher."
Phares says watching 4-H kids grow up and head out into the world brings mixed emotions. Each year she says good-bye to special ones like Craig and the world gains a new wave of responsible adults.
"The best part of this job is watching kids grow up," she says. "And the worst part of this job is watching kids grow up."