Tuesday, September 11th, 2007
Fire causes damage in Coldwater
By Shelley Grieshop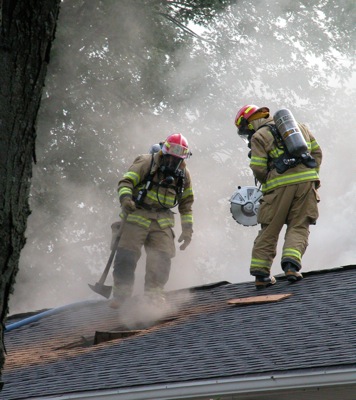 COLDWATER -Thick, black smoke billowed across several blocks in the village late Monday afternoon as firefighters from three area departments battled a house fire that caused extensive damage.
Loss to the home and its contents was set at $100,000.
Two dogs were rescued from inside the smoky residence at 214 Eastview Drive, shortly after the blaze was discovered by neighbors about 4:30 p.m. The owner, Kathy Moorman, was not home when the fire erupted.
None of the 31 firefighters from Coldwater, St. Henry and Burkettsville were injured as they successfully fought to keep the fire from spreading to neighboring homes, according to Coldwater Assistant Fire Chief Brent Forsthoefel. Crews were on the scene for three hours.
Forsthoefel said it appears the fire began in a rear family room of the single-story ranch home, although investigators haven't yet announced a cause or source. The home is fully insured, he added, and insurance company investigators are expected to be on the scene today.
Moorman arrived home to find her residence in shambles and her street swarming with firefighters and fire trucks. Distraught at the sight, she kept reminding friends and family members that thankfully everyone was safe.
Moorman's teenage son, Andy, a high school junior, and a classmate, were reportedly at the home after school. Moorman said her son left to drop his friend off, and when he returned, the home was on fire. Neighbors, who helped retrieve the family's pets, told The Daily Standard they advised the boy not to enter the home.
The home will require extensive renovations before the family can return.
"The garage, family room and kitchen were totally gutted," Forsthoefel said, adding smoke damage was evident through most of the other rooms.
Forsthoefel said the initial 911 call warned firefighters that the fire was fully involved. He said he spotted a huge cloud of smoke while still several blocks away and knew the fire was going to be a "hot one."
The thick smoke inside the dwelling and the warm temperature outside led Forsthoefel to seek help from neighboring fire departments, he explained.
"The first crew looked pretty beat when they came back out. That's when I called for mutual aid from St. Henry," he said.
Burkettsville firefighters also responded to help supply the firefighters with enough self-contained breathing apparatus (SCBAs), which were necessary for firefighters to wear as they worked inside the home and on the roof.
Forsthoefel said he was pleased with how quickly the fire was contained.
"We have a lot of good guys on the department who fought the fire aggressively, got it ventilated pretty fast. We've got a good crew," he said.