Tuesday, September 11th, 2007
Celina tennis unbeaten at 11-0
By Gary R. Rasberry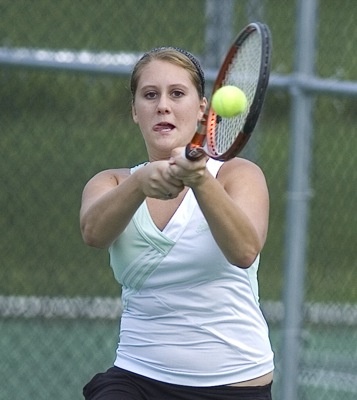 Celina got ready for a key Western Buckeye League tennis showdown by putting together a tremendous day in shutting out Bath, 5-0, at the High School Courts.
The win puts the NetDogs at 6-0 in WBL match play - 11-0 in overall matches - while the Wildcats fall to 1-4.
The victory also sets up a battle to decide the potential WBL champion today as Celina faces fellow unbeaten Elida in a match rescheduled from earlier this season in Elida.
"We should have some confidence going up there," said NetDogs coach Jan Morrison. "They may be undefeated overall and we are as well. Tomorrow is a big one."
The way Celina won against the WildKittens was impressive. Of the five matches, Celina raqueteers dropped just eight games overall in taking all the matches in straight sets.
"Mentally, you have to be strong to do that," said Morrison. "It's easy to let down.
"The girls played tough to play like that and stay focused."
Celina first singles ace Kelly Casad continued to roll, beating Amy Miller in straight 6-0 sets. Erin Brooks also posted a big win, taking Emily Jordan in second singles in matching 6-1 sets. Amber Jaeger rounded out the singles sweep in beating Danielle Skinner 6-2 and 6-1.
In doubles, the two Celina teams dropped just three games total. The first doubles team of Jess Wills and Kinzie Gardner defeated Heather Lawrence and Crystal DeVita 6-0 and 6-1. The NetDog second doubles team of Sara Dorsten and Rachel Smith made quick work of Kajal Patel and Katey McCafferty with matching 6-1 sets.
"You have to give Bath all the credit. They're out there playing again and playing some jayvee girls," said Morrison.
Getting junior varsity wins on the day were Shereé Werling, Abbie Brown and Lauren Besand in singles. Shelby Decker and Emilee Langenkamp teamed up to win in doubles, as did Abby Feltz and Alania Olding.
After today's match at Elida, the NetDogs travel to Ottawa-Glandorf on Thursday and wrap up WBL play at Defiance on Monday.