Friday, September 14th, 2007
Bulldogs on top of WBL standings
By Gary R. Rasberry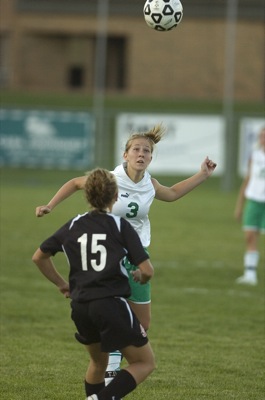 Celina used an quick offensive burst in the first half to take control over Shawnee early, then coasted the rest of the way to take a 3-1 win over the Indians at the Celina Soccer Stadium in Western Buckeye League girls soccer action on Thursday.
The win moves the Bulldogs to 4-2-1 overall and 3-0 in the WBL. The win was made more satisfying when Ottawa-Glandorf defeated Elida 4-0 to leave Celina as the lone unbeaten in WBL.
It was a span of just 18 seconds in the first half that gave Celina all the scoring it would needs against the Indians (3-4-1, 2-2 WBL).
After a Shawnee foul outside the box, Shelbi Nation came up to take the direct kick for Celina and Nation's boot bent perfectly past Shawnee keeper Rebecca Cobb for a goal at the 28:29 mark of the half.
Celina immediately got the ball back after Shawnee restarted the match. Cayla Hellwarth booted a pass to Candra Francis, who put the ball in the back of the goal with 28:11 on the clock.
"That was just a real shot in the arm for us," said Celina coach Cal Freeman. "We came down and scored, put a little bit of pressure, got the ball with good movement. Got a few thru-balls, got a nice cross and put it in.
"We have not done that all season. Normally it takes a little bit of time. We jumped out and that definitely helped."
The Celina defense clamped down on Shawnee. The Indians best chance to score in the first half was denied on a great defensive play. With keeper Allison Braun out of position after making a stop, Ally Carroll booted a ball out before it crossed the line, keeping the shutout through the first half. Shawnee did get a consolation goal with 11:54 left in the match when Morgan Redick put a rebound in the goal past Braun.
"Defensively, excellent," said Freeman. "I have to credit my defense. We rotate six girls back there. They all picked up their game and play very hard. I really think defense sets the tempo and they did a nice job."
By the time that Shawnee scored its lone goal, though, Celina was up 3-0. Eryn Langenkamp scored with 12:56 left to go off of Emily Pottkotter assist.
"I've got to give compliments to Shawnee," said Freeman. "They are a very good team. They came here to win and we were able to hold them off. They have a nice program."
Celina earned the sweep with a 6-0 win in the junior varsity match. Laura Axe and Anna Fickert each had two goals with Pottkotter and Kristi Hone each adding one goal.
Celina is back in action on Saturday at home with Bluffton. The jayvee match begins at 5 p.m.