Saturday, September 15th, 2007
Flyers all alone on top of MAC
By Randy Bruns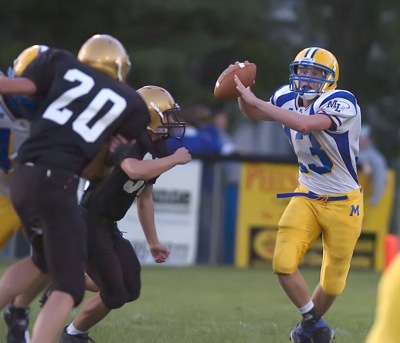 ROCKFORD - For the third straight week, the Marion Local Flyers took on an undefeated and highly-touted opponent, and for the third straight week, the Blue and Gold took care of business.
After spotting the Parkway Panthers the game's opening score, the Flyers reeled off 35 unanswered points en route to a 35-13 thrashing of the Panthers.
Marion Local moves to 4-0 on the year and sits alone a top the Midwest Athletic Conference with a 3-0 league record. Parkway falls to 3-1 overall and 2-1 in league play.
Perhaps buoyed by its early season success, the fired up Parkway squad took the opening kick and drove 79 yards for a quick score. Jordan Thompson found Josh Fisher on a 38-yard strike to start the drive, and nine plays later the duo hooked up again, this time on a 19-yard touchdown pass. The point-after kick failed, but the Panthers held a 6-0 lead.
Marion responded with a long drive of its own, as it also started on its own 21-yard line. It wasn't without drama, as the visitors converted on two fourth down situations - one from their own territory - to keep the drive alive. A 23-yard pass from Chris Stucke to Tyler Obringer brought the ball into Panther territory and six plays later, Luke Homan bulled into the end zone. After Dan Fortkamp's point-after split the uprights, the Flyers held a 7-6 lead.
The Flyer defense then forced a punt, and it took just two plays for the visitors to find the end zone again. Ben Schaefer gained 38 yards on the last play of the first quarter, and Stucke found Jason Wolters for a 21-yard scoring strike on the next play to give the Flyers a 14-6 advantage.
Things got wacky after that, as both teams entered the turnover zone.
Heavy pressure from the Marion front line and linebackers put Thompson on his heels and forced some ill-advised tosses. The Marion secondary was up to the task, as it picked off Thompson on three straight Parkway drives. The visitors couldn't capitalize, though, as two of their drives ended prematurely on an interception and a fumble.
When the Panthers turned the ball over on downs late in the half, the Flyers worked quickly for another score. Stucke hit Wolters and Marcus Moeller on a pair of big gainers, and after an acrobatic catch by Wolters at the four-yard line, Schaefer swept in for a touchdown that gave the Flyers a 21-6 halftime advantage.
After an exchange of punts to start the second half, Marion put an exclamation point on the game on its next drive. A pair of runs by Schaefer and Moeller netted 11 yards apiece, and Schaefer cleaned up on the next play by going 20 yards untouched for his second score of the game.
The Parkway air attack was feast or famine, as Thompson connected on 12 of his 27 passes for 214 yards, but was picked off five times, including two by Marion's Dan Fortkamp.
"We were a little disappointed in (the defensive backs) early on, but when you play the style of defense we play, it's a risk-reward type of thing," said Marion coach Tim Goodwin. "We got rewarded a few times, but we took some risk to get there, too. They competed well, which is the important thing."
Parkway coach Ed Kuhn thought that a few of the picks were the direct result of Marion's blitz schemes.
"They're a good football team," said Parkway coach Ed Kuhn of the Flyers. "They're big up front and they're fast. We just didn't handle the pressure up front which is what I was afraid of."
Marion got good balance out of its offense, as it rushed for 228 yards and passed for 162. Wideout Jason Wolters came through with a breakout game, as the junior pulled in five passes for a game-high 105 yards.
"It seems like Chris has found a comfort zone with Jason, and they're working really well together," said Goodwin. "It's not like we're calling all those plays with Jason as the number-one option, but they're comfortable with each other and it's working."
Despite the disappointing loss, Kuhn thinks his Panthers have plenty of better days ahead of them.
"I'm going to have to look at the film to find some positives, but our guys are going to come back from this," said Kuhn. "They're going to overcome this by working hard. There's a lot of football left and we can't hang our heads. It's time to move on."
Parkway will try to get back to its winning ways next week when it visits New Bremen, while Marion will host Minster.