Friday, September 21st, 2007
Demolition starting from inside out
By Timothy Cox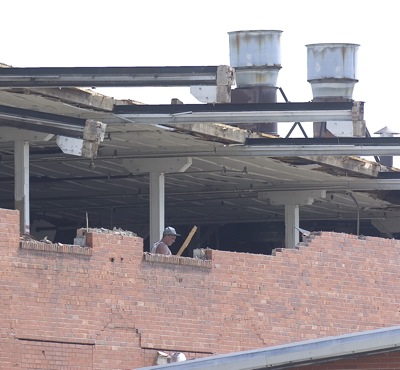 Work has finally started on the long anticipated demolition of the former Mersman Furniture Co. complex.
Celina Safety-Service Director Jeff Hazel reported at a recent Celina City Council meeting that demolition crews are working on the site. They are mostly working inside the complex, doing things such as asbestos removal and other preparations before the old brick buildings meet the wrecking ball.
CRS Demolition, Louisville, Ky., is the company clearing the 12-acre site for future redevelopment. Only the northwestern-most portion of the structure will be salvaged, renovated and made available for redevelopment.
The Mersman complex is owned by Brickyard Investments Ltd. The former industrial site is being cleared with a $750,000 Ohio Department of Development grant that is earmarked for reclaiming old industrial, or "brownfield" sites. The grant was secured through the city.
When the job is completed, most of the buildings and the tall smokestack at the site will be leveled. The work doesn't involve the long, narrow Alumacast building at the corner of Livingston Street, which is owned by someone else.
Also, some of the demolition material will be stored on the Mersman site for up to two years. City officials plan to salvage some of the old concrete and other debris to use in the construction of a breakwater that will eventually be necessary to protect the Celina Rotary Walkway, which is being built along the city's west bank of Grand Lake.
The oldest part of the Mersman complex opened around 1900. The factory was used for woodworking throughout most of the 20th century, closing for good in the mid-1990s.
An ODOD document attached to the city legislation says Brickyard officials are working to bring 15 to 50 new full-time jobs to the redeveloped site and bring back the 15 jobs previously there when SOURCES occupied a portion of the complex.
Brickyard officials already have signed a partnership agreement with the city that spells out the company's obligations to pursue redevelopment of the site.
A prior plan to clear and redevelop the Mersman site into a neighborhood of small starter homes and duplexes was rejected when city officials failed to offer support for the proposal a couple of years ago.