Friday, September 28th, 2007
St. Henry's Cooper Avenue rebuild progressing
Road is being extended 800 feet and resurfaced
By William Kincaid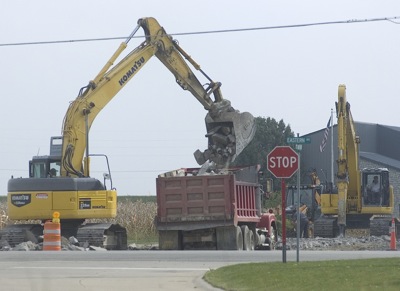 ST. HENRY - Work on the Cooper Avenue reconstruction project is progressing, as Tom's Construction of St. Henry began demolition work on the north side of the road this week.
Cooper Avenue - the only road to Cooper Farms Processing - is being extended 800 feet and resurfaced.
During the regular village council meeting this week, Hess notified council members that both curbing and sidewalk installation has been completed on the south side of Cooper Avenue.
"It's going to look really nice," Hess said.
In other news, Hess told council members that the village received $11,000 in donations from the Cooper Family Foundation for St. Henry's North Park.
He said $6,000 will be used to finance additional picnic tables that will be located near a proposed shelter house. The remaining $5,000 will help pay for the fencing of two new baseball diamonds, which should be completed by next year.
Hess said work on the two baseball diamonds, which will be used for pony league baseball, has begun, as top soil is being removed from the area.
Hess also revealed that the results from a recently completed speed study of state Route 118 and state Route 119 will be released at the next regular meeting on Oct. 8. A representative from Choice One Engineering will be on hand to discuss the results.
Village council members earlier this month approved a $6,550 speed engineering study to determine if the limits in areas of increasing traffic could be reduced. In recent years, according to Hess, traffic and residential congestion near the school's athletic center and other local businesses has significantly increased. Current speed limits in those areas range from 45 to 50 miles an hour.
The Ohio Department of Transportation mandates a speed engineering study for the establishment of speed zones.