Friday, September 28th, 2007
Flyers clear huge hurdle with sights set on MAC title
By Randy Bruns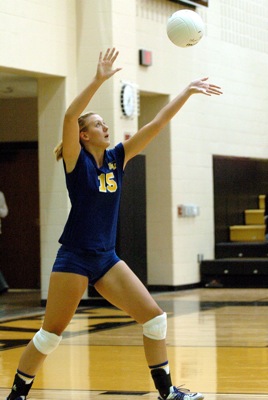 VERSAILLES - Volleyball isn't exactly a game of numbers, but the Marion Local Flyers can now proudly lay claim to being two for two against number ones.
In the most anticipated local volleyball match in a long time, the Flyers defeated Versailles, the state's number-one ranked team in Division III, in four games Thursday at Tiger Gymnasium, 25-21, 19-25, 25-16, and 25-21.
The win came just two weeks after Marion knocked off Anna, which occupied the D-III number-one spot at that time.
The Flyers now possess a 15-0 season mark and their 6-0 Midwest Athletic Conference record puts them in sole possession of first place. Versailles falls to 16-1 overall and 5-1 in league play.
The setting had all the makings of a late tournament match, as the sideline bleachers were almost filled to capacity and the overflow filled half of the end seats. Throw in a raucous group of rooters from both sides and a steamy, greenhouse-like atmosphere, and you had the surroundings that a match of this magnitude deserved.
And then there was the actual volleyball, which was just as good as everyone expected.
Versailles led through much of the first game, but Marion hung tight and finally took its first lead at 13-12 after a block by Abby Niekamp. Not surprisingly, things stayed close the rest of the way, as the visitors clung to a two-point lead at 22-20. A kill by Alyssa Winner and another block from Niekamp gave Marion game point, and after a Versailles kill, Niekamp finished things with a smash that found the floor.
The Tigers got more aggressive with their serves in the second game by mixing things up, and as a result, the Flyers struggled to get the ball to the front row. The hosts pulled out to a commanding 20-14 advantage, and though the Flyers later pulled to within four at 22-18, the deficit proved too much to overcome.
The third game was different from the start, as Marion vaulted out to a 7-1 lead to force a Versailles timeout. The hosts later pulled within two, but Kristen Bergman notched a kill and then served up four straight points to put Marion back in front by seven. Versailles would never get closer than five points the rest of the way, and a pair of hitting errors finally gave Marion the win.
It was back to neck-and-neck action in game four, as the score was tied 12 different times amidst furious action. The last tie was at 21-apiece, and that's when the Flyers came through in the clutch. Winner banged a kill to give her team the serve, and Niekamp followed with one of her own to put the visitors up by two. A pair of errant Tiger kill attempts followed, giving the match to the Flyers.
In a battle of two supremely talented teams, Marion's serving proved to be the difference, as it swatted nine aces and frequently kept Versailles on its heels.
"I thought our serving game was pretty good tonight," said Marion coach Amy Steininger. "I thought we forced them out of sync with some tough serving, and that was important because they're such a good offensive team that you have to take your chances somewhere."
Versailles coach Jeremy Riley pointed to his team's troubles with serve reception as the main factor in the loss.
"Marion's a very aggressive serving team with quite a few jump servers, and they found people who were a little bit off and they attacked them all night," said Riley. "But even though we made some mistakes we played some of our best ball tonight. I told the girls that we're a better team because of tonight."
Steininger gave credit to the brutal schedule her team plays for getting them ready for big matches.
"Our schedule really prepares us for matches like this," said Steininger. "We've been in this situation numerous times before where we've been behind against a top-quality opponent. We are in pretty good shape and we didn't look tired out there, because we're so used to this level of play."
The Flyers will get just one day off before heading to Convoy for the Crestview Invitational on Saturday, where they will take on Celina in the opening match. Versailles will face another top Division IV team on Saturday when Sidney Lehman pays a visit.