Wednesday, October 10th, 2007
Celina girls soccer wins WBL crown
By Gary R. Rasberry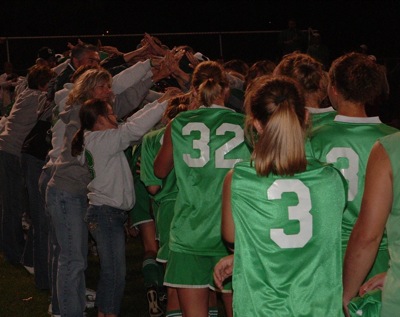 DEFIANCE - It was a simple equation: Win the match, take the title.
Celina went into its regular-season finale needing a win over Defiance to capture the Western Buckeye League girls soccer title outright. Any other result meant that St. Marys would swoop in and take the title.
Celina got what it needed, thanks to a pair of first-half goals less than two minutes apart. A second-half goal clinched the title thanks to a 3-0 win at Defiance.
The win ends the regular season for Celina with an 11-3-2 record with a more important 7-0-1 WBL mark for the first league title since the 2001 season.
"It's truly exciting," said Celina senior keeper Allison Braun, who made four saves in the shutout. "I'm really speechless right now. I'm just so happy how everybody played and how we came out and did what we wanted to do."
"Mission accomplished," said a relieved Calvin Freeman after the match. "It's been an interesting year and the girls played hard every step of the way. They came out tonight and played very well. That was just a solid game on everybody's part."
The players were happy to give Freeman, who missed several games during the season after a heart attack, the ultimate prize: The WBL Coach of the Year award that is bestowed on the league champion's coach.
"MP (assistant coach Wendy Mitchell-Payne), when we were on the bus, told us that we needed to play strong and get the WBL," said senior Eryn Langenkamp. "So coach Freeman can get (the WBL) Coach of the Year. We were really excited and hoped we can win to give it to him."
Defiance, entering the game at 4-8-2, did not appear to be willing to allow Celina a walkover in the match. Defiance keeper April Robage picked up nine saves on the night, turning away several potential goals.
"Defiance played tough. They really did," said Freeman. "They were in it. They didn't give up by any means."
Celina finally struck with 14 1/2 minutes left in the first half. Ashley Coon fired a perfect pass to Cayla Hellwarth, who put the ball past Robage for the opening goal of the match. Celina peppered the Defiance goal with 11 first-half shots.
Less than 60 seconds later, Celina earned its first insurance goal. Lindsay Frysinger passing off to Shelbi Nation with 12:31 to go in the half to make it 2-0.
"We made some substitutions and started changing up some of our offensive plays," said Freeman. "Then we were able to pop one in. Once we had that one, the other came rather easy."
The final bit of insurance came with just under 29 minutes to go in the match. Langenkamp found Candra Francis with a perfect leading pass and Francis put it away with 28:43 to go, allowing the contingent of Celina fans to begin celebration plans.
Freeman subbed in and out throughout the last half. Braun even got a chance to get out of the goal and play some offense as Nation went back to watch the rest of the match.
"Great thing is, we had a chance to get everyone in," said Freeman. "Everybody played. The last 10 minutes all the seniors were in the game, giving them a chance to play in their last WBL game. What a great season."
The postseason for Celina begins Tuesday at the Division I sectional at Findlay. Celina plays Fremont Ross starting at approximately 7 p.m.