Wednesday, October 10th, 2007
Marion Local ends long MAC title drought
By Mark Ruschau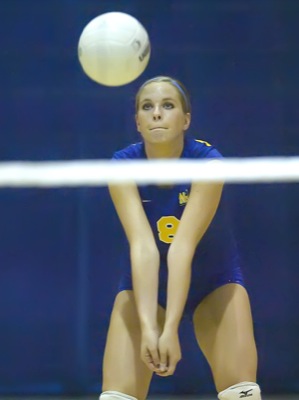 MARIA STEIN - You want motivation, try a 10 foot by five foot banner, that is visible to you and everyone else that tells of your lack of success and you get some idea of what faced the Marion Local Flyer volleyball team every day that they entered their gymnasium.
On the north end of the Hangar, hangs a huge blue banner that lists Flyer team championships in the Midwest Athletic Conference. Under the space for volleyball titles, it shows that the Flyers last won a MAC title in 1983.
Tuesday night the Flyers put that title drought to rest as they defeated the New Bremen Cardinals 25-16, 25-21, 25-19 to clinch at least a share of the title on Senior Night.
With the win, Marion Local improves to 20-1 overall and most importantly, the Flyers improve to 8-0 in the conference, with their final match of the season Thursday night at Delphos St. John's.
New Bremen falls to 16-3 on the season and 6-2 in the MAC. The Cardinals end league play as well on Thursday at Fort Recovery.
"It has been a long time since we have won the MAC, 24 years, so we are definitely proud to accomplish that goal," said Flyer boss Amy Steininger. "The league is so tough and it has been a struggle to win those league games and the girls have played well and we have been fortunate to win the big ones."
Marion Local used a balanced hitting attack and great defense to win and the statistics bear this out. On the night, three Flyers hitters reached double figures in kills as Kristen Bergman had a team-high 12, Abby Niekamp added 11, Megan Barhorst had 10 and Alyssa Winner chipped in nine kills.
On the defensive side, the Flyers limited New Bremen to just 24 kills and three blocks. Bergman led the Flyers in digs as well with 20. Junior defensive specialist Jessica Schwieterman did her job well as she recorded 16 digs.
"We had great balance in our hitting," said Steininger. "You really don't know how well a game you have had until you look at the stat sheet and then you see that we played a solid match."
The Flyers used their hitting to get the momentum going in game one. After falling behind 4-1, the Flyers got kills from Brittany Thobe, Niekamp and Bergman and a block from Thobe and Niekamp to ignite an 8-0 run giving Marion the lead for good at 9-4. In game one, Niekamp recorded five kills, while Thobe and Barhorst chipped in four each.
"We started out slow tonight and I expected that," said New Bremen coach Lisa Thobe. "I wasn't worried at the beginning and I thought we started playing and I thought we played well in the second game."
After being totally dominated in the first game, New Bremen battled in the final two games only to succumb to late Marion Local rallies. In game two the game was tied nine times, the last time at 20-20 on a kill by the Cardinals' Michelle Griesdorn and a service winner by Becca Dwenger.
After a timeout by the Flyers, the home team took the lead for good on a Barhorst kill. Marion built its lead to 24-20 on a kill from Schwieterman and Barhorst to go along with a New Bremen hitting error. After a Marion Local hitting error made the score 24-21, Winner closed out the game with a kill for the Flyers.
In game three, the Flyers built an early 10-7 lead only to see New Bremen go on a 6-1 spurt to take a 13-11 advantage on a kill by Lindsay Warner. The Cardinals maintained went up by as many as three points, leading 19-16, when Marion Local took charge.
Kills by Barhorst and Winner and a New Bremen net violation tied the game at 19. After a New Bremen timeout, disaster struck the Cardinals as not only did Barhorst record a kill that gave the Flyers the lead for good at 20-19, the Cardinals' Michelle Griesdorn went down in a heap at the net and was sidelined with an injury.
After play resumed, Marion Local closed out the game and the match on kills by Barhorst and Winner, a New Bremen hitting error and two service winners by Nicole Klosterman.
"Things got a little tight their in the last two games but we knew that New Bremen is a great team," said Steininger. "I thought we played good defense, not letting them have any great runs and I thought we did a good job of doing that."
"I thought we played in spurts and chunks tonight," said Thobe. "We could not stop the Bergman girl, the girl I had on her couldn't stop her so what do you do. When Michelle went down we kind of disintegrated and the girls know that. I think it is there and the girls know that. After the first six or eight points of the first game we were okay, I was fairly happy."