Monday, October 15th, 2007
Bulldog boys bring home title
Celina boys win first WBL title since 1984; ladies finish in fourth
By Gary R. Rasberry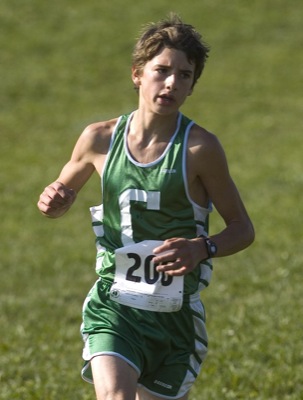 LIMA - A crowd of Celina cross country fans gathered around a bulletin board at Ottawa Metro Park to see if the Bulldogs' boy's cross country team could come away with a historic win.
As the runners were finishing up the varsity boys race at the Western Buckeye League cross country meet, the Bulldog runners and coach Dan Otten were checking the points. By their figures, Celina and Defiance each had 56 points, meaning it would come down to how each team's sixth runner finished to decide the title.
Celina's Eric Ballinger came in with a 25th-place finish, three spots ahead of Defiance's sixth man, giving the Green and White their first WBL boys title since the 1984 season.
"We knew Defiance and Wapak (which took third) were good," said Celina coach Dan Otten, who receives the WBL boys cross country Coach of the Year award with the team title. "The most valuable people, Isaac Niekamp is, by far. Just because he's the only senior and has wanted to win forever, even if he couldn't do it individually."
The race itself came at a strong pace. Shawnee's Chase Violet won his second-straight WBL race title in 16:16.66, well ahead of Defiance's Zac Wiles and Trevin Flickinger. Sophomore Andrew Goodwin was the first Celina runner across, taking fourth in a time of 16:59.91.
"I was a little slow at the two-mile (mark)," said Goodwin. "It's lot better (weather, where last week it was unseasonably warm). I like the cold a lot better. It wasn't hard changing."
Niekamp, the only senior, was in at eighth place in a time of 17.21.25.
"A lot of good runners," said Niekamp, who finished eighth at last year's meet. "I was just trying to run the same (pace) all the time."
Mitch Williams made it three Celina runners earning first team All-WBL status - the top 12 - in taking 11th. Peter Starnes was 14th with Luke Bonvillian the fifth Bulldog across in 19th, both earning special-mention status.
With the emphasis now on the sixth runners for both teams, placement was now key. Ballinger crossed in 25th place with a time of 18:12.56 and Defiance's Mike Schalatter was 28th (nine seconds later), giving Celina the title.
"I was talking to Obie (Defiance coach Obie Mouser), we were saying the fifth, sixth and seventh runners are going to dictate," said Otten. "Eric beat their sixth."
Otten praised his team on how all did their part to capture the title.
"Every guy fit in. They always get good efforts. It has to fit perfectly. If one guy isn't in his spot, it won't do it. We beat a perennial power in Defiance. You can't help but be pleased with the efforts, especially with Isaac and his leadership. Andrew ran smartly. He got himself realistically to where he should have been."
In the girls race, Celina finished fourth. Defiance placed its top five among the first 10 places to take the team title over Van Wert.
Melissa Roth earned first-team WBL status in taking seventh in a time of 20:12.15, improving seven spots from last year's meet.
"The hill was a little rough for me," said Roth, referring to a high hill which the runners had to embark twice in the race. "Last week it was so hot in Portage (Michigan, where several races were canceled due to the number of ambulances were needed to transport runners who suffered injuries and heat exhaustion). This weekend was a big change. We had a couple of days to adjust to it during the week We were prepared for the weather."
LaRae Dorsten finished 17th for the Runnin' Women, joining Rachel Young (21st) in receiving special mention WBL honors.
Kenton's Mallory Bloom took the race title for the second straight year, edging Defiance's Lauren Fett by 1 1/2 seconds at the finish.
St. Marys placed seventh in the varsity boys race, with Andy Durkee taking 21st to earn special-mention honors. The Roughrider girls also took seventh in the team standings. Emily Steva paced St. Marys with a 15th-place showing to earn special-mention honors.
Celina's boys took second in the junior varsity race. Nick Siebert made it two straight years the Bulldogs took the individual race title - Starnes won at Farout Park last year -winning in 18:35.18.
In the junior high races, Celina's girls placed second overall. Marissa Gibbons paced the Bulldogs with an eighth-place finish. St. Marys' McBroom took fourth in the team standings with Kelly Heitkamp leading the way in 11th.
The Celina Middle School boys placed fifth with McBroom seventh in the boys race. Roughrider Zach Metzger finished 12th, with Greg Hirt pacing Celina with a 28th-place finish.