Monday, October 15th, 2007
Out of difficulties miracles can grow
By Margie Wuebker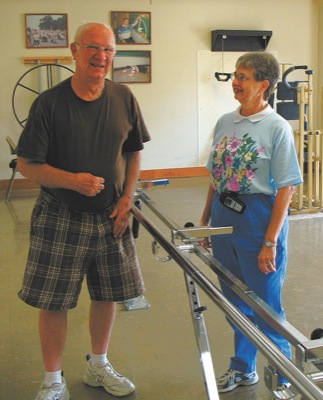 BURKETTSVILLE - Clarence "Curly" Newkirk walks slowly not touching the parallel bars. His smile grows broader as the distance lengthens between him and the wheelchair left behind.
Irene Newkirk is equally pleased about her husband's progress at The Center for Neurological Development. The change in just three months has been amazing - more than she ever imagined.
Curly, a former building contractor, suffered a stroke Oct. 4, 2004, while undergoing surgery on a blocked carotid artery.
"I won a golf tournament the week before shooting one under par," the Hot Springs Village, Ark., resident says. "It was one of those same day surgeries but I haven't been the same since."
Irene knew something was wrong when she went to his bedside and noticed a telltale droop on the right side of his face. More signs, like an inability to talk or move his right arm and leg, appeared as her husband awakened from the anesthetic.
Initially, Curly failed to recognize his wife but memories of their life together and the new home they had built in a gated retirement community returned. Therapy became a way of life at the hospital, at home and at an outpatient facility.
Improvement came at a slow and steady pace the first couple of years before Curly hit a disappointing plateau. His insurance company eventually balked at any more payments for therapy sessions.
"We were getting depressed," Irene says as her husband nods in agreement. "We supposedly had the best therapist around but we weren't making any breakthroughs."
Jan Bedell, a sister-in-law who works as a neurological evaluator in Dallas, Texas, suggested the Newkirks contact the Burkettsville center headed by director Joan Kiser. Bedell, along with 10 to 12 evaluators from across the country, had toured the local center two years earlier and was impressed by the work being done there.
The Newkirks made a trip to Burkettsville and also were impressed by the center, which operates on donations and does not charge patients. They went back home to pack and make arrangements for a lengthy stay in Mercer County.
"God had a part in all of this considering the way everything came together," Irene says. "We found a house here in Burkettsville to rent for three months and a woman wanting to downsize let us borrow furniture and household goods."
Curly had his first therapy session July 10 in a wheelchair and left tired but hopeful.
"I'm 80 years old but giving up is not an option," he says. "I traveled 750 miles for a chance to improve. All I had to do was look around this place and see folks in a lot worse shape than me. I stopped feeling sorry for myself on day one."
Patterning and recommended therapy stimulated his brain and strengthened his muscles Monday through Friday. Each day brought new achievements. He initially clung to the parallel bars and made a few steps despite remaining somewhat "scrunched up" and head down.
He has worked up to 30 laps around the cafeteria with the aid of a cane. He even rides an exercise bicycle with the aid of special boots and looks forward to playing golf again even if it's only the putter-style variety.
"I've gotten all excited again," Curly says. "The evaluator has given me new exercises that I can do at home with some adaptations. I can't wait to walk into church on my own two feet. The people back home will be so surprised."
They anticipate the trip home with mixed feelings.
"We want to get home before cold weather sets in," Irene says. "However, we will certainly miss the people here who have become our second family. We want Joan to come down and talk about the establishment of a center like this in Hot Springs Village."
Curly chuckles softly before adding, "There sure are a lot of angels here but their wings don't show. A few of them - not to mention any names - are rather ornery and let their horns show."
The Newkirks are not the only clients who have traveled great distances to participate in the outpatient program established in 1984 at the local neurological center. The center hosted a young man from Bosnia for a month in 1991 after the Cleveland Clinic was unable to cure a broken neck. He and his father learned about the center through a longtime participant. A 40-year-old woman from Naples, Fla., spent one year at the center after breaking her back. Her sister, a chiropractor by trade, heard about the program from evaluators who toured the facility.
"This is a place where miracles occur," Irene says. "When you have something so good, the word gets out some way."