Wednesday, October 24th, 2007
Redskins put regular season behind them
By Gary R. Rasberry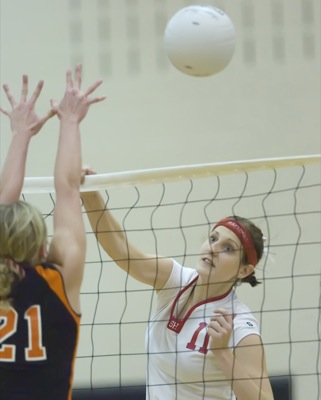 ROCKFORD - It doesn't matter that St. Henry was just 6-15 in the regular season.
This time of year, it's about the record in the tournament.
Going into Tuesday's Division III volleyball district semifinal, it was 2-0, knocking off second-seeded Parkway on Saturday.
To make it 3-0, a win over top-seeded Coldwater was required.
After a slow start in game one, the Redskins roared back, beating Coldwater - avenging the regular season loss to the Cavaliers - in three games 25-21, 25-20 and 25-23 at Parkway High School.
The Redskins (9-15) travel to the Grand Canyon in Napoleon on Saturday for a 2 p.m. district final match against Archbold.
The Blue Streaks defeated Swanton in three games on Tuesday to advance.
"I just think we've come together as a team," said St. Henry coach Lori Schwieterman. "Better team chemistry all over the place - in practice, in games, in the locker room. We have better team chemistry and it's starting to pay off."
St. Henry took over the match after trailing 5-1 in the opening game. Several hitting errors early took the Redskins off their game, but when Brooke Mattingly quick-set a ball over for a point, the Redskins were able to respond.
Cassie Leugers served up four straight points to tie the game at 9-all before Coldwater got the ball back. The Cavs were unable to get more than two points ahead the rest of the game, with St. Henry taking over the lead at 16-15 during an eight-point run by Hannah Thees, that had St. Henry up 22-15.
Emily Post had three kills during the run as Coldwater had three hitting errors. The Cavaliers got as close at 23-21 before a tip by Shelby Buschur and a kill by Mattingly ended the game at 25-21.
"I think it was our passing," said Schwieterman. "... I told them to shake it off and get to the next play. I emphasized one play at a time and get to 25 first."
"After that, we couldn't get that momentum going anymore," said Coldwater coach Mandy Diller. "I felt like we kept playing and playing and not going anywhere."
Game two was even through the first few rotations before St. Henry got out 14-8 thanks to kills by Buschur and Kenzie Bruggeman. Coldwater worked hard to get back into the game thanks to solid kills by Kelley Lefeld and Ali Wenning, but St. Henry kept the Cavaliers at bay to take game two 25-20.
In game three, the teams stayed even up to 7-all when the Redskins got another pair of runs to go up 13-9. Coldwater, this time, responded during Wenning's serve, as Lefeld and Maria Wermert scored points and a couple of Redskin hitting errors gave Coldwater a 14-13 lead before the Redskins recovered.
Coldwater got a final lead at 19-18 before Buschur recorded three straight kills to make it 21-19. The Cavs tied the game at 21-all before Buschur had a kill that barely was in play. St. Henry got up 23-21 before Coldwater came up to cut it to 24-23 before Chelsey Kremer nailed a spike for match point at 25-23.
"We kind of get back into it once in a while," said Diller. "Then again, they would pull away from us. We didn't have a lot of things fine tuned tonight."