Thursday, October 25th, 2007
Bulldogs lose a heartbreaker with just 1:41 left in match against Shawnee
Both Celina soccer teams eliminated in shutout losses
By Gary R. Rasberry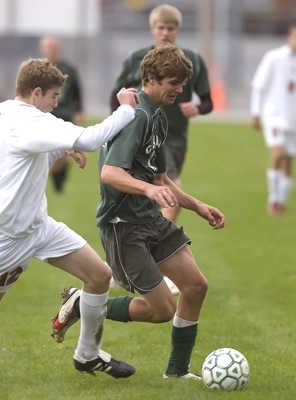 SHAWNEE TOWNSHIP - After playing 80 scoreless minutes the first time around in the regular season, Celina and Shawnee fans were looking at another 80 minutes of scoreless play and overtime in their postseason matchup.
Shawnee, however, finally got a break as Adam Khalaf scored with just 1:41 left in the match to end Celina's season with a 1-0 defeat in the Division II district semifinal at Shawnee Soccer Stadium.
The Indians (12-3-3) move on to play in the district final at Wapakoneta on Saturday against Napoleon, which beat Ottawa-Glandorf 3-1 at Defiance on Wednesday. The Bulldogs end a tremendous season at 11-5-2.
With the clock under two minutes to play in the match, Shawnee finally caught the break it needed. Cody Smith took the ball to the far corner with plenty of defensive pressure from Celina.
However, Smith broke free and fired the ball inside, where Khalaf was open with just Celina keeper Jordan Bertke left to defend. Khalaf put the ball in the upper-left corner of the goal to break a deadlock between the teams that lasted 158 minutes and 19 seconds.
"Cody was fighting hard for the ball. He just played it perfectly for me," said Khalaf. "I couldn't miss."
"It came with 3-4 minutes to go when (assistant) coach (Chuck) LaGrande came up to me and said 'Have we ever thought of putting Cody Smith at center-forward?' " said Shawnee head coach Dick Hagen. "I said I thought about it too. I said 'It's worth a try.' Sure enough, how many balls did he win. To me, he got the game ball."
The evenly-played matchup, with Celina holding a 13-12 margin in shots on goal, had all the makings of a possible double overtime, followed by penalty kicks.
Both teams had great shots to score in the second half. Garrett Black nailed a howitzer-powered kick at the goal with 32 minutes left, but the ball went wide of the goal.
"They switched their formation. They played higher," said Celina coach Bruce Strine. "We didn't mark him, purposely, because we wanted to keep control. It did work for us.
"We had some nice looks at the goal. The keeper made a nice save on Michael's (Sommer) from the outside. We had a crossed ball like they did that just bounced over our striker's foot in the first half."
Hagen expected a battle against Celina.
"The two teams are very even," said Hagen. "Celina has some very good defenders. Once we got into our attacking third, I think they really clamped down. It almost looked, sometimes, like they were packed in the box."
With 151/2 minutes left, Michael Sommer had a clear shot at the Shawnee goal, but Indians keeper Austin Howard deflected the ball and the Indians' defense cleared the ball.
"I think you just had two evenly-matched teams," said Hagen. "Bruce does such a great job. I scouted them against St. Marys (on Saturday). When they shut down the offensive power of St. Marys, I knew we would be in for a long game."
"Great battle. Same way it was the first time around," said Strine. "They got it in the net and we didn't. They're a good team. It was a good game. I'm real proud of our guys. They played hard the whole time."