Wednesday, October 31st, 2007
Lake Campus to build this spring
WSU branch to add facilities, considers adding degrees
By Margie Wuebker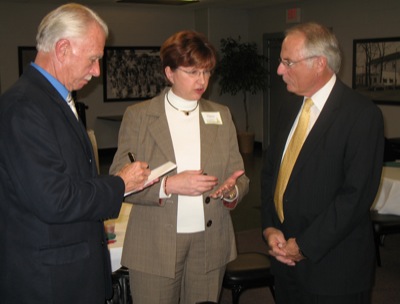 NEW BREMEN - These are exciting times as Wright State University-Lake Campus is looking to add more four-year programs and is getting ready to break ground on a multi-million dollar building project.
WSU President David R. Hopkins brought his annual report to Southwestern Auglaize County on Tuesday, drawing applause from nearly 50 school, community and business leaders in attendance who liked what they heard.
Hopkins indicated spring will bring groundbreaking ceremonies for a $9 million expansion and renovation project at the Lake Campus. The ambitious project, which involves the construction of a multipurpose center and the creation of state-of-the-art classrooms, is being financed by a successful capital campaign.
The campus recently participated in a needs assessment survey to determine the needs of businesses in a 16-county area. The reply from a source at Crown Equipment Corporation indicated young people are not well versed in cutting-edge technology.
The upcoming renovation project is geared toward providing such technology in a 21st century building, according to Hopkins, who became the university's sixth president earlier this year when Dr. Kim Goldenberg retired. He believes in this global knowledge economy such things as talent, creativity and innovation are important so graduates hit the ground running.
"We're working with businesses to serve real world problems," he added. "We're working with the Ohio Board of Regents and the new chancellor (Eric Fingerhut) to bring more four-year programs here to your own backyard. The Lake Campus is a shining example of what institutions of higher education want to achieve in coming years."
The four areas being considered include engineering, criminal justice, nursing/allied health professions and computer science. The campus currently offers a master's program in business administration.
The campus, located along the banks of Grand Lake, currently draws students from 23 counties with 70 percent of them coming from Mercer and Auglaize counties.
"Ohio is at a real crossroads when it comes to higher education," Hopkins said. "Wright State is already positioned to do great things in the future."
Alluding to the university's 40th anniversary observance, Hopkins pointed out Wright State was chartered in October 1967. It sprang from educational interests that brought satellite programs from Ohio State University and Miami University to the Miami Valley. Today's sprawling complex began as one building surrounded by cornfields.
The Lake Campus history dates back even further to years when educational programs were offered here in Mercer County under the auspices of Ohio Northern University. It became a chartered part of Wright State in 1969.
Locally, some 144 students received $200,000 in scholarships this year under the auspices of the Western Ohio Educational Foundation. Since its inception more than 1,000 students have received $1.5 million in scholarships.
Back in 1970, only 8 percent of people age 25 and over held college degrees in Wright State's 16-county region. That number has increased to 25 percent but a new partnership involving the state's 40 adult learning centers, 23 community colleges, 24 branch colleges and 13 public four-year colleges is expected to spark more educational attainment.
"We have to find a way to work together to bring another 230,000 students into the education pipeline," Hopkins said. "Gov. Ted Strickland has cited that as a goal."
It will take some time to overcome a "disinvestment" in education that has taken place over the course of 25 years. Hopkins estimates the partnership will need to bring in $450 million to reach Strickland's educational attainment.
Ohio currently ranks among the top 10 states in the nation in terms of tuition rates and among the bottom 10 in terms of state support. The new partnership will find ways to level this playing field, according to Hopkins.
"We need a decade of support in order to forge new territory," he added. "We're not done yet - the best is yet to come."