Wednesday, October 31st, 2007
Area well-represented on Saturday at Scioto Downs
By Gary R. Rasberry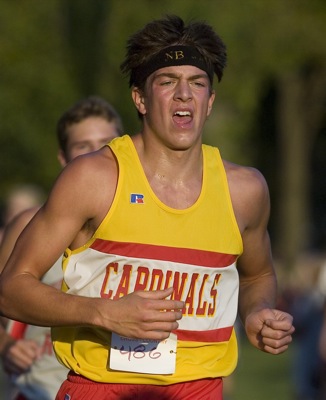 It seems like all season it was Minster, New Bremen and St. Henry. No particular order. One ahead of the others at different points throughout the season.
It's appropriate that the three Midwest Athletic Conference teams will move on to the Division III boy's state meet for one more confrontation this year.
"We were second at regional," said St. Henry coach Mike Eyink. "But (it was 18) points between us and Minster (with New Bremen in the middle). It's funny because at district, it was Minster, Bremen and us. Saturday, it was us, Bremen and Minster. Second place was out of our thinking."
Minster boy's cross country coach Larry Topp said that having a chance to battle conference rivals at the state level is a big help.
"Having those teams (going to state) gives us something to work toward," said the veteran Wildcats mentor, who became a grandfather this week. "Of course, I've been coaching a long time. Local talent will make your talent better."
Eyink agrees.
"It's going to be a big plus," said Eyink. "We don't know about St. Thomas Aquinas, but we know where we should be in comparison with Minster and New Bremen. We know where we should be against Russia (the regional champ at Troy). We can, hopefully, feed off those teams and it will give us some idea where we're supposed to be."
"Those rivalries are growing," said New Bremen boys coach Adam Topp, nephew to Larry. "Those kids get to know each other and respect each other."
New Bremen took third at the Troy Regional thanks to a top-10 finish from junior Jeff Kremer. The Cardinals went to state in 2004 and look to better the 16th-place finish achieved that season.
Senior Adam Quellhorst is the lone returnee from that team, running as a freshman in 2004.
"Adam's big, having that little bit of experience. It makes a difference," said Adam Topp. "The kids are constantly asking questions. ... He's been a nice coach when I needed him. That senior leadership is very important."
Minster makes it back to Scioto Downs for the first time since 2005, and this year's Wildcat septet brings back plenty of experience from that team. Five of the seven, including front-packers Kregg Olding, Joby Stechschulte and David McGowan are back from the 12th-place team finish in 2005.
Freshman Jack Olding, Kregg's younger brother, and junior Alex Abbott have provided a needed boost in the postseason.
"I didn't really think about that too much. Today I said 'How many of you guys went to state?' and there was five," said Larry Topp. "That definitely tends to be helpful. ... There's definitely a silver lining."
If anything, there will be a large contingent of Topps at the meet watching Larry and Adam's teams square off again.
"Larry's been a guy I've leaned on a lot of times coming up. I've been doing this for 8-9 years," said Adam. "Larry's a good competitor, always willing to help.
"You know Larry as well as I. He likes to joke around and have fun with it. We just get a kick out of each other."
Coldwater junior Dusty Kuess was a key cog of the Cavaliers' 10th-place showing last year at state. The 2007 MAC champ, keeping the title in the Coldwater program for a sixth straight year, finished in the top 30 at Scioto Downs last season and will move up the chain this season. Kuess heads to Columbus after placing 11th at Troy to earn an individual qualifying spot.
GIRLS
Fortunately for Jessie Magoto, sick leave was last week.
Minster's girls team was hit hard by the flu the days preceding to the Troy Regional. The Wildcats got through the ordeal to take second to qualify for state as usual.
"We had anywhere from half our team gone last week and at times more than that," said Magoto, the Lady Wildcats' coach. "It was tough. If anything, knock on wood, we got it out of the way."
Considering the Wildcats took second rising from the infirmary, a healthy Wildcat bunch comes in as one of the favorites to win it all in Division III.
In fact, the four teams that got out of Troy could be considered contenders as well.
Seneca East, making the nearly two-hour trip from nearby Tiffin, which also holds a regional meet, took the Troy regional title last week. Fort Loramie took third and Versailles was fourth. All four teams were in the top five in the most recent coaches poll, with Seneca East and Minster ranked first and second.
"Especially with the sickness, it made me quite nervous," said Magoto of the competition. "All of us were racing against each other, but it was great. Great competition.
"To me, I liked getting to race them all. It was a great opportunity to get an idea, especially with Seneca East since we haven't raced them since Tiffin (Carnival), where they're at."
Mark Pleiman, coach of the third-ranked Tigers, agrees.
"I'll be very shocked if we're not one of the top five teams," said Pleiman. "Seneca East looks real good right now. I think they're a little bit above everyone else. I know Minster wasn't feeling well last week. I think you have a classic battle.
"Pretty much what you've seen at our regionals is what you're looking at as a state preview."
In the Division II race, Celina's Melissa Roth makes her second trip to Scioto Downs. The All-Western Buckeye League runner finished in 60th spot at state last year.
Given that her regional time is nearly a minute faster than her 20:17 time at Scioto Downs last season it looks like an opportunity for Roth to move up the rankings.

State CC Meet Race Times:
11:05 a.m. - Division III Girls (Minster team; Versailles team)
11:50 a.m. - Division II Girls (Melissa Roth, Celina)
1:20 p.m. - Division III Boys (Minster team; New Bremen team; St. Henry team; Dusty Kuess, Coldwater)

Location: Scioto Downs, two miles south of I-270 on U.S. 23.

Admission: $8