Saturday, October 6th, 2007
Celina celebrates homecoming, first win
By Ryan Hines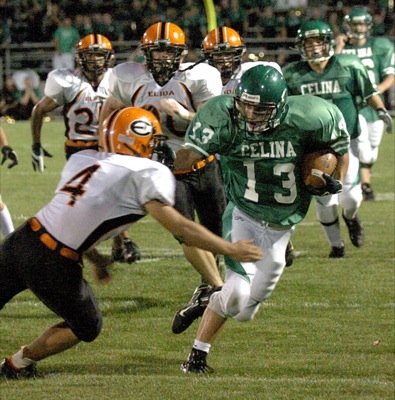 Homecoming isn't the only thing that Celina will be celebrating this weekend.
Celina had its best offensive performance of the season as the Green and White won their first game, a 49-6 pasting of Elida in Western Buckeye League play on Friday night at Celina Stadium.
It was supposed to be a tight matchup against winless teams, but Celina grabbed control early and never looked back scoring 49 unanswered points before Elida scored a meaningless touchdown with just 10 seconds left in the game.
"Everyone needs the sun to shine on them sometime and tonight was our night," said Celina head coach Jerry Harris. "Elida had the same mentality that we had coming into this game, trying for a first win. We played well and it was nice to see our kids get a win. I was pleased."
First-year Elida head coach Jason Carpenter wasn't happy after the game and he let his frustration show.
"They made plays and we didn't, and that's what it boiled down to," said Carpenter. "We did everything that we could to get the ball into the hands of our playmakers, but I can't catch the pass for them or block the person ahead of them. I can't put my heart into them.
"Once we get all 11 guys doing their jobs on a play, that's when we will be successful and not before then. But, on every play it's either nine or 10 guys doing their jobs and that's not going to get it done, we need all 11 players doing their job on every play," added Carpenter.
Celina's Kelby Rosengarten was the star of the night, especially in the first half when the senior made three big plays, all of which resulted in touchdowns. Rosengarten rushed the ball just five times in the game but went for 102 yards, including scoring jaunts of 35 and 60 yards, while also hauling in an 81-yard touchdown pass.
"I commend Kelby for being on the homecoming court and playing a good football game," said Harris. "He had a night that you dream about. He's one of our two quickest people that we have and he made some big plays. He'll remember this game forever."
In addition to Rosengarten's strong play, Celina's Alex Dues eclipsed the 100-yard rushing mark with 11 carries for 106 yards.
While Celina was rolling on the way to the blowout, the defense also played strong allowing just four Elida rushing yards (on 27 carries) while also limiting the visitors to just 15-of-35 passing for 140 yards and picking off two passes.
"I believe that we can compete in the WBL, but they don't believe it because they don't play each play like it's their last," said Carpenter. "We make the same mistakes, week in and week out. I'm scratching my head right now. I don't know if the kids think that they can compete each and every week. It stinks when our community continues to put our kids down and the coaches down. Right now, Elida needs to come together and not be negative and that's not happening right now."
It was the defense that gave Celina its first score. After a Celina interception gave Elida the ball on its own two-yard line, the Green and White defense busted through the line and brought down Elida's C.J. Warren in the end zone for safety and a 2-0 lead.
Celina then made it 9-0 after Derek Gagle hooked up with Cole Schaffner on a middle-screen and the senior fullback rumbled 17 yards for a touchdown.
It was 16-0 after Rosengarten took the handoff on a beautifully executed statue-of-liberty play and raced 60 yards for a touchdown.
Celina continued to dominate play in the second quarter with 21 more points. Rosengarten accounted for two of the touchdowns in the second stanza and Gagle ran one in from seven-yards out giving Celina a 37-0 lead at halftime.
Eric Link recovered a fumble in the end zone to give Celina a 42-0 lead and then Ryan Paulus rumbled in for a score from two-yards out as time expired in the third quarter for a 49-0 lead.
"We had a couple of big plays early and they (Elida) had some things go against them early and it just snowballed," said Harris.
Elida's lone score came on a 16-yard pass from Shane Conrad to Tyler Bly with 10 seconds left in the game.
Celina will look for its second win of the season on Friday when the Bulldogs travel to 1-6 Lima Bath.