Wednesday, November 7th, 2007
Mercer County Jail tax barely passes
Provisional vote count could overturn results
By Timothy Cox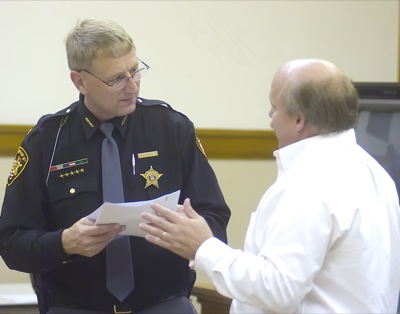 Mercer County voters approved a 0.5 percent sales tax to build a new jail by a razor-thin margin - with enough votes still left to be counted that the issue is still statistically a tossup.
In unofficial vote totals, 5,426 voters favored the sales tax while 5,356 voted against it. Elections officials could not immediately say Tuesday evening if the 50.32 to 49.68 percent margin (70 votes) would trigger an automatic recount.
About 43 percent of the county's 26,000 registered voters - 11,148 - turned out for Tuesday's election.
The vote total includes absentee ballots but does not include approximately 160 provisional ballots. Those votes won't be counted until Nov. 17, when elections officials will determine the eligibility of each voter and whether the votes should be counted.
County officials were pleased with the outcome, however slim the margin. Of the 160 provisional votes, 116 would have to cast votes against the tax issue to overturn its current passage.
"I'm glad that people went out and voted. The commissioners and I wanted to hear from them," Sheriff Jeff Grey said Tuesday night. "I would have liked a little more decisive answer, but we'll see for sure how it shakes out."
"It's a lot closer than I would have liked to have seen, but we live in a society where the majority rules," Commissioner Jerry Laffin said.
If the vote in favor of the sales tax is certified, the county would build a $12 million, 100-bed detention facility on county-owned land just west of the county home on state Route 29 west of Celina. The county's current jail - built in 1939 - is certified to hold only 15 prisoners.
The 15-year tax issue will raise about $1.7 million annually that would be used to retire the debt on a new jail and pay the increased operating costs of a larger lockup.
While Grey lamented the extremely close vote, he also took some solace that the issue passed the first time it was put before voters. Similar efforts in other counties routinely fail the first time around, he said.
"We have went slow throughout this whole process so that people have all the information," Grey said. "Even now, we're going to be careful we don't get in a hurry because $12 million is an awful lot of money."
The next step will be to contact the facility's architects so they can resume the design of the facility. Only schematic drawings have been done so far; the county held off on paying for construction blueprints and final engineering until voters approved the tax issue.
The new jail likely would not open until late 2009 or early 2010, Grey and Laffin said.