Monday, November 12th, 2007
State champs
Norwalk St. Paul no match for Marion Local
By Randy Bruns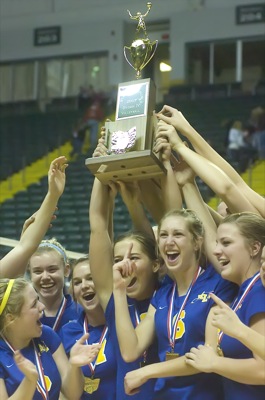 FAIRBORN - They've been tantalizingly close several times in recent years, but finally the Marion Local Flyer volleyballers can call themselves state champions.
Or, more appropriately, STATE CHAMPIONS.
Marion knocked off the defending champion Norwalk St. Paul Flyers in three relatively quick games (25-14, 25-22, and 25-16) before claiming the big gold trophy that had eluded the team for so long.
"We're playing our best volleyball right now and we peaked at the right time," said a jubilant Marion coach Amy Steininger. "We came to this state tournament on a mission and these girls played with a vengeance. They had a goal in mind and nothing was going to stop them from (achieving) it."
Marion, which was tested throughout the regular season by Midwest Athletic Conference foes and then three more times by conference-mates in the tournament, actually had an easier go of it in the regional and state levels than they did earlier in the tourney. The Flyers were pushed to four games in the districts by New Bremen and Delphos St. John's, but cruised to three-game wins in their four regional and state victories.
"It definitely helps when you have a lot of people that are going to play college volleyball in your league," said Marion's Megan Barhorst. "It helps to play teams like that all the time. When you come up here and get to state, all of those (regular-season matches) helped us."
Marion made a major statement in the opening game, as it never trailed and broke things open with a big mid-game push. With her team up 14-12, Abby Niekamp drilled a kill that put her on the service line. The senior proved she is more than a big hitter, as she scored five straight service points - including one on an ace - that gave the Blue and Gold a commanding 20-12 advantage. St. Paul never threatened that lead, as Katie Schulze later knocked an ace of her own and Barhorst and Kathy Dirksen teamed up on a combo block to finish the game.
St. Paul came out strong in game two, as it took a quick 4-1 lead, but things tightened up from there. Marion took its first lead at 13-12 after three straight aces by Shelby Moeller, but St. Paul hung tough and later tied things at 18-apiece.
That's when the big Marion front line asserted itself, as Kristin Bergman smacked a kill and then Barhorst teamed up with Dirksen and Bergman on a pair of combo blocks. Barhorst then drilled a kill of her own, and Marion had a 22-18 lead.
St. Paul later closed to within two at 24-22, but after Steininger called a timeout, Niekamp put an emphatic end to the game with a laser to the floor of the Nutter Center.
The finale started just like the other two, with the teams staying close early on. Marion took a 13-8 lead after a pair of combo blocks by Barhorst and teammates, but St. Paul later crept back to within three at 15-12.
From there, the Flyers wearing Blue and Gold took over. Alyssa Winner notched four straight service winners to give her team a 20-12 lead, and after a mini-run by St. Paul made the score 20-16, Marion ended things in typical fashion.
Bergman banged a kill to get her team the serve back, and after a triple block and two kills from Barhorst, Bergman punctuated the win with the final - and biggest - kill of her high school career.
In the end, Marion's big and agile front line proved to be far too much for St. Paul to overcome.
"We definitely had problems hitting through their block," said St. Paul coach Nancy Miller. "We didn't attack the ball as effectively as we could have. They blocked the ball very well tonight and their offense was very aggressive and it kept us on our heels. They've got (signees) going to Florida State (Niekamp) and Cleveland State (Barhorst), and it's a top caliber team all the way around. I don't think it's just their middles, I think their whole team was very aggressive."
As impressive as the Marion hitting attack was, it was its blocking that had most in attendance in awe.
"I thought our whole front line really did a great job today," said Steininger. "We had 16 team blocks, and that was a season-high for us. That's tremendous, especially because it was in a three-game match. I thought we really dominated net play. Our girls did a great job of blocking them."
This was Marion's third trip to state, and three of its big hitters (Barhorst, Bergman, and Niekamp) were also major contributors on the 2005 squad that lost a five-game heartbreaker to eventual champ Lehman in the regional finals. To notch a championship in their final try made things even sweeter for the nine seniors that dot the Flyer roster.
"It seems like we'd get so far and then you really think that this is the year you're going to do it, and then something like that happens," said Bergman of the loss to Lehman. "We were like a train that wasn't stopping this year. Throughout the whole tournament it was like nothing could stop us. It's just an awesome feeling."