Monday, November 12th, 2007
Coldwater wins instant classic in 3OT
By Gary R. Rasberry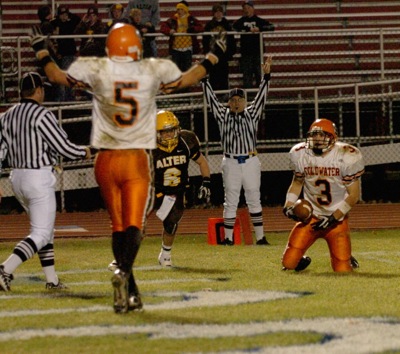 PIQUA - If there was ever a game that, 20 years down the road, Coldwater football fans could call the greatest ever, Saturday's matchup against Alter in Piqua would be the one.
The Cavaliers, twice trailing by 21 points in the contest, had one of the greatest comebacks ever to tie the Knights at 49-all after the first 48 minutes of action.
After a scoreless first overtime and a second overtime where each team nailed field goals, Coldwater scored on its possession in the third overtime session, then stopped Alter short of the first down to defeat the Knights 59-52 in the Division IV playoffs at Alexander Stadium/Purk Field.
The Cavaliers (11-1) now face Clinton-Massie at Welcome Stadium on the campus of the University of Dayton on Saturday at 7 p.m. in the Region 16 championship game. The Falcons (11-1) defeated Milton-Union 18-14 to advance. Alter, the state runner-up in Division III last season, ends its year at 11-1.
Coldwater trailed 28-7 in the second quarter and later trailed 42-21 in the third quarter, but instead of folding up the tent, they found a way to stay positive.
"That's what we try to build our program on, never giving up," said Coldwater coach John Reed. "We're trying to learn lessons about life. In life sometimes, you're down 21 sometimes. What are you going to do about it? Bag it and give up? No! You're going to keep battling away.
"What we had to do is allow ourselves to stay positive to try and work our way back into the ballgame. Once we got to a place where we knew we could compete with them, then we really started making plays on both sides of the ball."
It was the dominating running game from the Alter wishbone against Coldwater's passing attack.
Alter sent in six and seven players at a time to disrupt the running game and pressure the quarterback. The Cavaliers only had 12 carries in the game for 55 yards, in comparison to the Knights' 360 yards rushing on 65 carries.
The end result was a career night for junior quarterback Cory Klenke. Klenke was 25-of-50 passing for 431 yards and seven touchdowns and three interceptions. The Coldwater offensive line, facing a large Alter defensive front, did not allow Klenke to be sacked or severely pressured.
"They (Alter) were bringing everybody. Bringing the house constantly," said Reed. "Our offensive line deserves so much credit.
"There's no sense running it in there. It wasn't going to happen. So, we had to keep doing what we were doing."
"We didn't have any answers to stopping them tonight," said Alter coach Ed Domsitz. "We were not able to get the pressure on (Klenke) that we hoped and you'd have to have in order to slow that offense down."
Stopping the running game was a problem Coldwater had early. Knights running back Corey Roark found openings early and often in the game en route to a 25-carry, 193-yard night with five of Alter's touchdowns. Three of Roark's scoring runs came from distances of 30 yards or more.
Coldwater was able to find a way to slow down Roark and fellow back Chris Borland (17 carries for 111 yards), which was just enough to allow Coldwater to get back into the game. After Roark's 39-yard score in the third quarter, the Cavaliers did not allow a run over 10 yards the rest of the game.
"They (Coldwater defensive coaches Tim Hoyng and Jason Hemmelgarn) went to a stunt package that really took that away from them," said Reed.
After Roark scored his fifth touchdown of the game with 17 seconds left in the third quarter to make it 49-35, Coldwater went to work. After getting good field position on the kickoff. Klenke moved the Cavaliers downfield on just three plays to get to the Alter three, where Tony Harlamert busted through for the TD to cut the lead to 49-42 with 11 minutes left.
Alter kept the ball on the ground to eat up the clock, but when Knights quarterback Austin Boucher finally needed to pass, he found Klenke, who took the ball back the Alter 23 with 7:42 left in regulation. Klenke then converted a third-and-12 with a 12-yard pass to Harlamert. After a Harlamert rush, Klenke went to the air to Harlamert, who took it in with 5:55 to go, tying the game for the first time since midway through the first period.
In overtime on the opening drive, Coldwater tried to pass the ball into the end zone several times and only totaled three yards before turning it over to Alter. The Cavalier defense found some extra energy as Tyler Kunk sacked Boucher for an eight-yard loss on second-and-nine. One play later, Borland was brought down nine yards back and a pass play on fourth down was incomplete.
Alter took the ball in the second round of OT, moving the ball just four yards on three plays before Scott Vannetta booted a 34-yard field goal to force Coldwater to at least score a field goal to keep the game going.
It looked like Coldwater was looking for six as Klenke found Harlamert for a 19-yard gain on second-and-10 to put the ball at the one. But three straight run plays, two by Harlamart and one by Klenke, produced nothing and Mario de la Rosa chipped in a 19-yard field goal for the tie.
Coldwater got the ball for the third overtime and immediately looked for the end zone. After three plays, Coldwater was just three yards closer. On fourth-and-seven, Coldwater found Zach Kaup, having the game of his life with 10 catches for 190 yards and three scores, for a reception at the seven-yard line to get the first down. After an incomplete pass, Klenke found Harlamert in the end zone for the score. The PAT by de la Rosa now forced Alter to get seven points to keep the game moving.
The Coldwater defense rose to the challenge again, stopping Cody Taulbee for two yards on the opening play. Boucher threw two incompletions to force a fourth-and-eight. Boucher fired a pass to Nate Wolfe, but Wolfe was brought down a full yard behind the marker to end the game, sending the Coldwater sidelines into a frenzy.
"Not a whole lot to tell them other than I was proud of the way they played football. Not just tonight, but all year," said Domsitz. "We've been ready to play every ballgame."
"This is very, very, very, very satisfying," said Reed. "This is a great program (motioning to Alter). I'm sure they thought they, rightfully so, they would be playing Mooney or whoever in the state championship game. This whole community of Coldwater is a special place."