Friday, November 30th, 2007
Genealogical file at library may help fill branches of family tree
By Janie Southard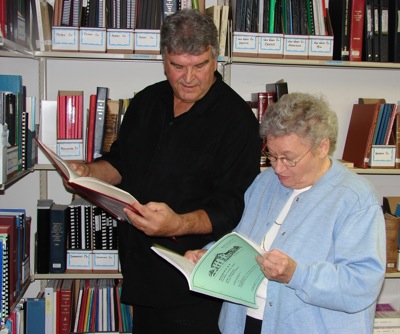 There are well over a million pages of information in the genealogy room at the Mercer County Public Library in Celina that could provide just one little thread leading someone to his great-great-great-grandfather. And, there are volunteers on duty five days a week to point that grandson in the right direction.
No volunteers on Saturdays, but locals are available by phone and drive to the library if needed, according to Carolyn Brandon and Arnold Fast, members of the Mercer County Chapter of the Ohio Genealogical Society, which is the largest in the country.
"We started out with two stack shelves back in the corner of the library in 1984 ... We chose the library for our records because it's handicap accessible, open to the public and open for more hours (than other area museums)," Brandon said while at the library earlier this week.
Several years later the group moved their estimable records and documents into a room at the northeast side of the building and now that space is getting tight.
Visitors to the room average about 55 per month and use the obituary card files, of which there are at least 100,000, or any of the other hundred or so sources of information.
Both Fast and Brandon agree that using the obit card files, the census books and the cemetery lists will usually turn up information about an ancestor known to have lived in the area at some point.
"We had a man from Corning, Ark., probably in his 90s, researching the Bollenbachers of Liberty Township. He said he couldn't see very well so I pulled out the cards and read them to him," Fast said. "He was doing the research for his family because he knew none of them would ever make the trip up here to find out for themselves."
Arkansas is just one of dozens of states represented in the sign-in book as genealogists travel from California, Arizona, Iowa, New Jersey, etc., to hunt their Mercer County roots.
Fast also recalled a researcher from closer to home, Winchester, Ind.
"He had a line of ancestors with family name Goodyear and just couldn't find when they died or where they're buried. The problem turned out to be their grave markers were in German and the name on the stones was Gueityar, a German spelling of Goodyear," said Fast, who speaks and reads German.
The spelling of surnames could very well change over the decades even if they're not German, which is certainly the prevalent local ancestry. As well, those whose ancestors have common names, for example John Smith, have a challenging hunt ahead of them.
Brandon agreed to a point, but added that's not always the case. One of her own most difficult ancestors to find information on has been Lorenzo Dow Roll, a seemingly distinctive name. But, circumstances of the time made Lorenzo nearly as common as John.
During that era there was a well-known evangelist whose full name was Lorenzo Dow; thus, that rather unusual name was very popular.
Brandon already had given up finding this relative a few years ago when she answered a query in the Darke County Genealogical Society Newsletter seeking information on the Roll family.
The query writer turned out to be a descendent of Lorenzo Roll and when Brandon contacted him she learned his sister had the Roll family Bible. "Boy, that was good news because Bibles are considered a primary source," she said.
(In genealogy, a primary source is a record that was created at the time of an event by a person who had reasonably close knowledge of that event. A marriage certificate is another primary source.)
She not only found out when he died, but how he died. Without that Bible she said there would have been no record in the county.
"And, no other I've ever found," said Brandon, who's been researching her family for decades. "Back in those days, unless you were Catholic or Lutheran, there are no church records."
Lorenzo Dow Roll died in 1841 of injuries sustained when he fell off a barn. Later, during research for another family in Portland, Ind., she just happened on documentation proving Lorenzo's father was Benjamin Roll.
"I think of genealogy as a big puzzle where you'll find only one piece at a time," she said.