Monday, December 10th, 2007
Minster girl scouts up some Christmas fun
By Margie Wuebker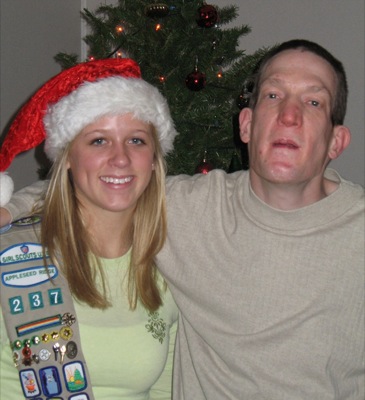 MINSTER - Christmas came early for clients of Auglaize Industries on Friday night thanks to a holiday dance organized by Minster High School senior Gretchen Sherman.
Sherman planned and coordinated the event to qualify for the prestigious Gold Award - the highest honor available in the Girl Scout program. But it was not all work as she donned a Santa Claus hat and spread holiday cheer amid the strains of "Shout," "Little St. Nick" and "Electric Slide."
Penni Carroll, recreation coordinator for the Auglaize County Board of Mental Retardation and Developmental Disabilities at Auglaize Industries in New Bremen, looked around the room at the dancers gyrating to the infectious beat.
"This whole room is filled with such joy tonight," Carroll said with unshed tears glistening in her eyes. "A young lady in high school did all this....she put everything together in about two months."
Sherman, the daughter of Bill and Jannis Sherman, heard none of the complimentary words because she was too busy dancing with Bill Gilberg, a 72-year-old client from New Bremen. She smiled and applauded his slick moves which resembled a combination of jumping jacks and the twist.
Other high school students intent on earning community service hours for National Honor Society (NHS) membership also joined in the fun. They, too, became sought-after dance partners with nary a complaint.
"I dance real good," client Dale Sprague of St. Marys proclaimed displaying fancy footwork. John Finnen of Minster smiled proudly when Carroll dubbed him the best dancer on the floor.
"This party means so much to these really special folks," she added. "They know when somebody is doing something just for them."
Sherman gave up something special to make sure everything went according to plans. A varsity cheerleader, she left her cheerleading uniform at home and pulled on her merit badge sash, leaving the rest of the squad to perform at the school's first home basketball game of the season.
Initially, Sherman was not sure she wanted to tackle the challenging Gold Award project,
fearing the required 65 hours would prove an insurmountable task. She sought the advice of leaders Jeanette Olberding and Elaine Brown with necessary approval coming from the Appleseed Ridge Girl Scout Council Nov. 29.
"I helped with a similar dance as a sophomore to earn hours toward my confirmation requirement," the ambitious teenager said. "I remembered how much the clients enjoyed themselves and I wanted to give them another fun activity."
Everything fell together with local United Steelworkers officials donating use of the hall. The Minster Kiwanis Club and Minster Journeyman's Club sent checks to defray other costs while Kris Kuenning, who served as project adviser, donated refreshments and disc jockey Ben Wendeln had charge of the music.
Mother Nature opened her bag of winter tricks resulting in the cancellation of classes not once but two times during the preceding week. Sherman used one day to bake and decorate more than 10 dozen cookies and the other to decorate the hall complete with miniature Christmas lights, red and green tablecloths, potted poinsettias and large holiday posters.
Since the Gold Award denotes leadership as well as service, she enlisted the assistance of 30 third- and fourth-grade Scouts earlier in the week to make Christmas cards and picture frames for each client since dance plans also called for a photography corner.
In coming weeks, she plans to put together several commemorative scrapbooks - one for Auglaize Industries and another for the Appleseed Ridge. Everything must be completed by Jan. 15 with the award presentation tentatively scheduled for spring.
Sherman's association with Minster Girl Scout Troop 237 dates back to kindergarten and the Daisy ranking.
"My mom used to be a leader when I was young," she said. "I stayed with the program and so did a lot of my friends. Being active in Scouts is a good thing to put on college applications."
The busy teenager plans to major in chemical engineering at Ohio State University or the University of Dayton following graduation and recently earned a Honda/OSU Math Medal for being the top math student at her school. In addition to being a cheerleader and an NHS member, she has been involved in competitive dancing at The Dance Studio in Wapakoneta.
"I am so glad I chose this project," Sherman said before returning to the dance floor. "It took a lot of planning and involved a lot of work, but seeing all the smiles here tonight makes everything worthwhile."