Monday, December 10th, 2007
St. Marys is second, Coldwater third at Sielski tournament
By Gary R. Rasberry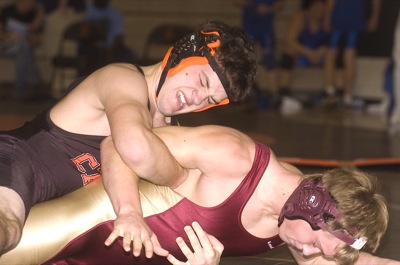 COLDWATER - Chuck Alig was in a strange position on Saturday at the annual Sielski Duals Wrestling Tournament.
In all the previous renditions of the tournament, Coldwater was front and center in the championship match, taking home first or second each year.
With some of his key grapplers inactive after a long and successful football season that resulted in a state title, the Cavaliers needed to beat St. Marys in the fourth round of pool action to ensure a spot in the championship.
The Roughriders, however, felt otherwise and came away with a 36-33 win to give Coldwater its first-ever pool-play loss in the tourney.
"It's different," said Alig, the veteran Cavaliers coach. "It was a good learning experience for everybody."
St. Marys followed with a win over Fairborn in its final pool match to set up a championship match with Northwest Conference power Allen East.
The pool match with Coldwater was a back-and-forth affair. The Cavaliers tied the match at 15-all with a Jared Kohn 3-2 win at 119 pounds on a reversal with less than 30 seconds left.
After St. Marys got six points when Coldwater did not fill the 125 slot, Jordan Price scored a 3-0 win at 130 to make it 24-15. After a trading of pins made it 30-21 in favor of St. Marys, Jordan Grieshop got Coldwater within three points with a pinfall at 145 pounds.
St. Marys clinched the match at 152 with a win by Kenny Perry to make it 36-27, with Coldwater getting a void win at 160 to make the score closer.
"We won some matches I hadn't counted on winning," said St. Marys coach Larry Gruber. "Some younger people came through in some places. We didn't know what to expect when we came in."
In the championship match, the Mustangs came out bucking and took control of the match from the 130-pound division on to gain a 45-22 win
"We had five duals today, so you had to jump into it," said Gruber. "You find out real quick what it's going to be like."
Coldwater rebounded and took third-place honors in the tournament with a 44-27 win over Tinora.
"If we had a couple of more football players (competing), who knows what happens," said Alig, who was missing key grapplers like two-time state qualifier Tyler Kunk. "We're happy with what we did. I'm pleased with it. I'm proud of the kids for what they did."
In the other placement matches, Edgerton took fifth place with a 41-24 win over Milton-Union, Fairborn downed Carey 39-36 for seventh with Lincolnview beating LCC 48-21 for ninth place.
Twenty-two wrestlers earned medals for going undefeated in their five bouts on the day. St. Marys had a pair of unbeaten wrestlers in Paul Lauth (171 pounds) and Kevin Falasco (112 pounds).
Four Coldwater wrestlers earned medals: Kohn, Trevor Kunk (135), Nick Gabel (189) and Nick Uhlenhake (215).
St. Marys gets back into action on Thursday, traveling to Celina for a big rivalry match. Coldwater heads south this Saturday to the Troy Christian Invitational.
Presenting the awards this year were former Cavalier wrestlers Aaron Alig and Derrick Timmerman, both having recently returned from tours of duty in Iraq.