Saturday, December 22nd, 2007
'Claus she likes them!
By Margie Wuebker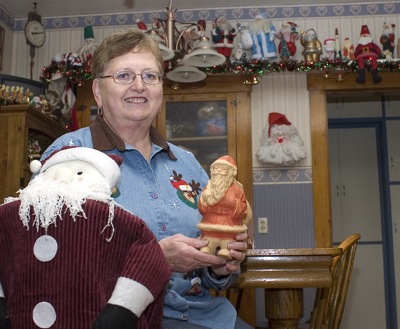 NEW BREMEN - Walking into Diane Paul's home at this time of the year is like stepping into a Santa Claus wonderland smack dab in the midst of Auglaize County.
More than 200 figures, ranging from portly characters in red suits to Old World styles sporting lean physiques and subdued colors, decorate her North Water Street house. Others bide their time in the attic dutifully waiting an opportunity to delight visitors.
"I never intentionally set out to collect Santas," she says. "They just kept multiplying over the years to a point where I became a collector."
The living room and den boast attractive tabletop displays. Even in rooms where you least expect to see him, Santa can be found lurking somewhere. His face even adorns a padded seat cover in the master bathroom.
Dozens of Santas decorate the window sill above the kitchen sink while more stand at attention on a long shelf at the far end of the room. Some do nothing but pose, while others play seasonal tunes like "Jingle Bells" to "The 12 Days of Christmas."
The famed North Pole denizen comes in all shapes and forms - a Coke bottle, bowling pin, teapot, sequined purse, bell, cookie press, wind chimes, fireplace broom, jack in the box, backscratcher, candy cane, cookie jar, child's ball, trinket box, gourd and even a light bulb.
"For years I hung that ornament over a kerosene lantern," Paul says pointing to the festive light bulb. "For some reason it fell this year breaking the chimney on the lamp and emerging without so much as a scratch."
There is a story behind each and every collectible, according to the retired ABC Center secretary/receptionist. A generously stuffed pillow complete with flowing beard once saved her daughter from certain injury in a tumble down the stairs.
"Kelly slid all the way down on Santa," says the mother of three and grandmother of four. "She escaped injury and so did he."
The papier-mache fellow with a faded red suit reminds her of dad - Paul Headapohl, who died several years ago at the age of 90. The figure had been his since childhood and he often filled the attached pouch with striped candy canes.
"My dad thoroughly loved Christmas and anything associated with it," she says. "He started decorating the week before Thanksgiving and held an annual open house so people could come and see the display."
Many of his mechanical Santas now occupy places of prominence at her home, including one showing the jovial man blissfully sleeping amid lumbering snores and another showing Santa and Mrs. Santa Claus feeling rather frisky as they shake their behinds to "Rockin' Around the Christmas Tree." It had been a gift from Viola Headapohl to her husband one year.
Others came from family and friends like a carved wall hanging, a birthday gift from her husband Rob, and a series of figures, all Christmas presents from the late Peg Knost, a co-worker and friend. She considers a stone Santa purchased for $30 at a flea market her most unusual acquisition.
Paul plucks a Fontanini Santa from a shelf and recalls finding it at a garage sale. The figure, made of resin, hand painted and imported from Italy, cost a quarter. Her favorite bargain-hunting event is the sprawling U.S. 127 garage sale that takes bargain seekers well beyond the state line one weekend each summer.
"Garage sales, flea markets and after-Christmas sales are good places to look," she says. "I don't spend a lot on Santas, but I have learned to be more picky in what I buy because I'm running out of room. Nowadays, something has to attract my attention or be really unusual."
She plans to carry her treasures back to the attic after New Year's Day to their waiting storage totes. The old adage - "A place for everything and everything in its place" - certainly applies with a detailed map keeping track of everything including two boxes of Santa ornaments destined for her 2008 tree.
"I carried them all down and I will carry them all back," she says. "And when you have as many Santas as I do, that's a lot of trips."