Saturday, December 22nd, 2007
Flyers do damage in post
By Randy Bruns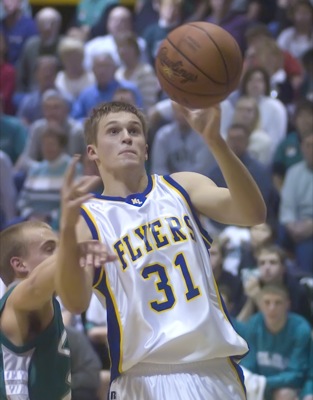 MARIA STEIN - The Marion Local Flyers and Celina Bulldogs had not squared off on the basketball court in over a decade, but Friday's intense contest made the continuation of the series look like a very good decision.
Marion's stellar post play proved to be too much for Celina's perimeter attack, as the hosts went ahead early and then never gave up the lead on their way to a 56-50 non-conference victory.
Marion improves to 2-0 on its young season, while Celina falls to 2-4.
This one wasn't exactly pretty, as both teams committed at least 20 turnovers apiece, but the effort from both squads was certainly there. The game was also a contrast of scoring styles, as the Flyers could not hit from the outside (0-11 from behind the three-point arc) while the Bulldogs had trouble scoring from the paint (30-percent from two-point land). As a result, the hosts pounded the ball down low and the visitors got their points in bunches from long distance.
The Flyers got a big boost from senior post player Jordan Winner, whose interior presence made him a big and easy target for the other Flyers. Winner got loose for 10 points in the second quarter to enable his team to take a 28-21 lead into the halftime break.
Though they could never quite catch up, the Bulldogs got very close a couple times in the second half. Michael Sommer drove the lane for a bucket midway through the third quarter to pull his team within one at 32-31, but consecutive buckets by Jordan Schmackers put the Flyers back up by five.
Marion later built up an 11-point bulge in the fourth, but Derek Gagle single-handedly brought Celina back in the game. Gagle first connected from long range, then converted a traditional three-point play, and finally drilled another trey to make the score 49-47 with just over three minutes to play.
A pair of Flyer free throws gave the hosts a four-point lead, and Winner provided the dagger by snaring a nifty pass from Alex Moeller and hitting the bunny to give the Flyers a six-point advantage that would never be threatened.
"There have been a few times this year where we've been right there but haven't been able to get over the top," said Celina coach Chris Bihn. "A couple times tonight we had some opportunities and we turned the ball over instead of getting a good look. That'll kill you."
For his part, Marion coach Keith Westrick looked at the game as another learning process for his team.
"(Celina) definitely showed us our weaknesses and tried to exploit them," said Westrick. "We just have to get better at handling the pressure defense. They were trying to extend things out so far that we couldn't run our offense. Our decision-making process wasn't as crisp as it was Tuesday night (in a win over Delphos St. John's) but you have to credit Celina for that. They did a nice job of denying passes and we weren't able to counter that with penetration."
Winner came through with a career-best performance for the Flyers, as he had game-highs in points (25) and rebounds (16).
"He played a lot of ball this summer with AAU and our open gyms and then he hit the weight room hard," said Westrick. "He's just a lot more confident this year and hopefully with a game like this he can feed off of it and get even more aggressive out there."
Bihn was equally impressed with Winner.
"I'm not sure how many points he had, but it was a boatload," said Bihn. "He was a load inside because he's strong, he's got good hands, and he's smart."
Gagle paced the Bulldogs with 23 points thanks to a five-for-nine effort from three-point land.
Marion will look to stay on the winning track tonight with a trip to Covington, while Celina will try to rebound next Thursday and Friday when it hosts the HALLiday Shootout.