Monday, December 24th, 2007
So, what does Santa do after Christmas?
By Shelley Grieshop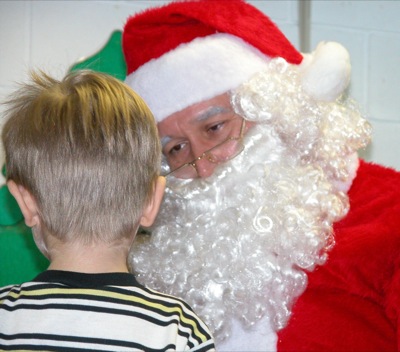 Everyone knows what jolly 'ole St. Nick is up to this time of year.
If he's not packing up gifts or hanging out with Dasher or Dixon, he's probably taking practice flights in the sleigh to avoid Mrs. Claus' to-do list.
But when all the fuss is over, when the gifts are delivered and every boy and girl are elated beyond their wildest dreams, then what? Well, that's the question The Daily Standard posed to 4- and 5-year-olds throughout the Grand Lake area, because no one knows more about the subject than little people under 4 feet tall.
Kyrsten Fowler, 4, a preschooler at T.L.C. Learning Center in St. Marys, is sure Santa walks away from the whole gift transport business and dabbles in construction beginning Dec. 26.
"He has a job and his job is to put on doors," he says, adding "he paints them, too."
Classmate, 4-year-old Tricia Yahl, says Santa moonlights as a waiter.
"When the elves are working, they get really hungry and thirsty," she says.
Yahl believes St. Nick puts his Christmas stuff away, goes to sleep and when it's hot, he goes swimming in Auglaize County.
"The St. Marys, Ohio, has a pool but not the North Pole," she adds.
Bryce Wilker, 4, says Santa spends his off months taking care of the reindeer. There are nine of them, you know, and somebody has to do it, he says.
"Elves can't do it because they're busy making toys," Wilker says.
If Santa gets a vacation, Evan Anderson, 4, is certain he travels to Disney World. "It's the best place to go," he says quite loudly.
Many of the pint-sized preschoolers at Grace Land Preschool in Celina say Santa is a toymaker all year long, working side by side with his elves.
"He has to go back to the North Pole and build toys," says Dalton Leiss. "The elves, they get dumped up. They don't know what they're doing. He has to help 'em."
Like any big job, there's always paperwork to process and file, believes Maddie Siefring, 4.
"He does papers, big Santa papers," she says shyly.
Classmate Laci Muhlenkamp believes Santa deserves some R&R after his big night.
"He goes to bed and talks to Mrs. Claus. He tells her he's tired," she says, while nervously winding her finger through her hair.
Tristan Mullens says Santa makes like a bear and hibernates.
"He goes to sleep until it's present time again," he says.
The children at the Mercer County Education Service Center Preschool thought long and hard about their answers. Maybe it was because Santa was about to enter their classroom for a visit and a reporter with a notebook and pen wasn't nearly as thrilling.
Despite the distraction, 4-year-old Tyler Miller took a moment to visualize the Santa he knows and loves, dripping with sweat, pushing a Lawnboy mower across the North Pole tundra on a hot, sunny day.
Jayden Waterman, 4, sees Santa in a very different light.
"I think he sits down and reads books to Rudolph," he says.
Sitting next to Waterman with an eye on the classroom door, 5-year-old Jessica Barlage fidgets a bit with the Santa stocking that's been placed on her head. Finally, after some prodding, she sets the record straight.
"He rides horses," she says matter-of-factly, and the traditional image of Santa is soon replaced by a jolly 'ole man in a saddle, atop a white stallion, wearing a 10-gallon hat.
Could be some jealous reindeer if this news gets out.