Monday, December 24th, 2007
Bulldogs win a defensive struggle
By Gary R. Rasberry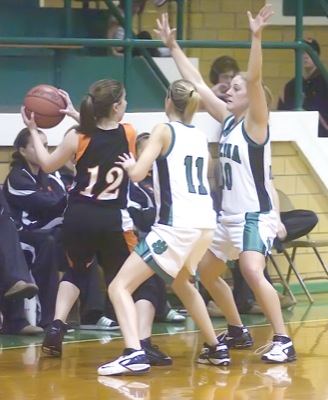 It was a defensive struggle, but Celina shot slightly better than Minster and key free-throw shooting down the stretch gave the Bulldogs a 39-33 win over the Wildcats at the Fieldhouse on Saturday afternoon.
The Bulldogs improve to 6-2 on the season as the Wildcats drop back below .500 at 3-4.
Neither team had a strong shooting day. Celina was just 12-of-32 from the field (37.5 percent) while the Wildcats were 13-of-41 (31.7 percent).
"We got outrebounded in the first half and we shot not very well at all until the fourth quarter," said Minster coach Nann Stechschulte. "We had some good looks. ... They were just little jumpers we needed to knock down."
"Throughout the game, I was pleased with our defense," said Celina coach Brian Stetler. "We've been giving up single-digit quarters quite a bit lately (Minster scored four, five and six points in the first three quarters on Saturday). That's decent."
Minster worked hard on defense, especially against Celina standout post players Liz Homan and Cenzie Yoder. The pair combined for just 11 points in the game.
"We wanted to keep both of them under 10 points (each) and we did," said Stechschulte. "We needed to do a better job on the glass."
In the first half, the Bulldogs got a big contribution from Kelsey Waterman as the Celina junior nailed two first-half three-pointers and had all seven of her points in the first half helping Celina to a 15-9 lead at the break.
In the fourth quarter, with Minster hanging around and looking to close the gap, Cayla Hellwarth stepped up, scoring all 10 of her points in the final eight minutes, including an impressive 8-of-8 from the foul line.
"For us to be successful, we're going to need people to step up like that," said Stetler. "Cenzie and Liz, (other teams) are going to double down on them and put extra people on them, but I thought we stepped up and made a few shots from the outside. For us to be successful, that's got to happen."
Minster, trailing as much as 12 in the final period, staged a late comeback with its pressure defense. Celina committed seven of its 17 turnovers in the fourth quarter. Austi Weitzel had eight of her team-high 11 points in the fourth quarter for the Wildcats as Minster got it to within six down the stretch.
"I'm proud of the kids," said Stechschulte. "We got down 12 points and they worked their tail ends off to get back into where it could have been a ballgame at the end."
"They're well-coached and they're going to come after you," said Stetler of Minster. "We knew coming in that Minster was going to play really hard defense. We would have liked to take care of the ball more at the end."
Homan finished with seven points, but dominated the boards, pulling down 12 rebounds.
Lauren Ranly had a solid shooting night for Minster, scoring 10 points.
Celina is off until Saturday, hosting Coldwater in the teams' annual Mercer County matchup. Minster heads to Elida on Friday and Saturday for the annual Vicki Mauk Classic.