Wednesday, December 26th, 2007
It's official at Howick farm gauge
By Shelley Grieshop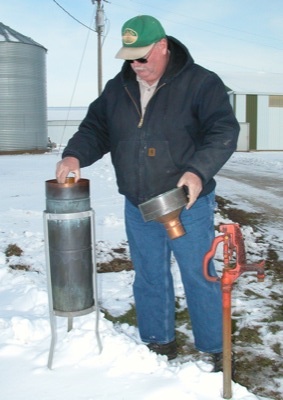 A noisy goat peers out from a nearby wire pen as Dennis Howick checks his government-issued rain gauge for precipitation.
His modest rural Celina farm - not unlike hundreds of others in this community - seems an unlikely place for an official National Weather Service (NWS) climate recording station. But appearances are deceiving; the Howick family's long-standing reputation for reliable and accurate weather reporting spans more than four decades.
"Dad started doing this in '56, straight through 'til he retired in February of 2000," says Dennis Howick.
Through the years, Harold Howick received honorary pins for his work, and in 1996, was recognized for 40 years of service. He was awarded a plaque, which was personally delivered by a Department of Commerce employee, and a flag flew over the capitol building in his honor.
Harold Howick retired from the volunteer weather monitoring job after the effects of Parkinson's Disease caused his normally steady hands to shake uncontrollably. On Feb. 16, he passed away.
More than 11,000 volunteers across the U.S., like the Howicks, monitor and report weather observations to the NWS from farms, in urban and suburban areas, National Parks, seashores and mountaintops.
A digital thermometer, atop a post in the ground a few yards from Howicks' back door, records the high and low local temperatures. At 6 p.m. each day, Dennis Howick flips on his "big 'ole yard light" to physically check precipitation amounts. Any snow in the rain gauge must be melted to get exact moisture amounts. An inch of rain is equal in precipitation to 10 inches of snow, he explains.
"When snow falls in the rain gauge, we melt it to get the liquid equivalent," he says, explaining that all precipitation is monitored by the NWS to track flood threats.
He also must note on data forms supplied to him by the government, climate such as fog, hail, thunder, ice pellets and any oddities brought forth by Mother Nature.
Dennis Howick's wife, Teresa, often lends a hand by transferring her husband's daily numbers to the monthly sheet (officials can't read his writing, she says with a laugh), and mailing the statistics to the NWS by the sixth of each month.
The job isn't quite as easy as it might look, the couple say. A measurement of snowfall, for example, must be done on a flat, cement surface, where overhangs, trees or other obstacles can't interfere.
"The hardest thing in the winter is trying to measure a snow that's blowed," Dennis Howick says. "Sometimes it's just a wild- ass guess."
For his local forecast, given to The Daily Standard six days a week, he first checks the Internet for NWS predictions for Dayton and Fort Wayne.
"We're always about 5 degrees colder than Dayton and several degrees warmer than Fort Wayne," he says.
Then he "blends" the two, he says.
Occasionally he's asked by attorneys or other professionals for historical weather data for legal matters. That's when he treks to "the big house," the white farmhouse next door where his father was born and raised. It continues to be the storage vault for all local weather records.
The couple, almost daily, get good-natured ribbing when they're out and about from residents who know them as the "weather people."
"When you going to let it cool off or when you going to let it rain, people ask. No one is ever pleased," Teresa Howick says. "We tell them it's Ohio weather. If you don't like it today, wait until tomorrow."
A goat and steer farmer, Dennis knows how important weather forecasts are to local farmers, so he does his best. And he really does like the work, despite its daily demand, he says.
"It's actually kinda' fun to be able to compare records, to know exactly what's out there now and what's probably going to happen later," he says.