Saturday, December 8th, 2007
Bringing forth the beauty
Priest in Maria Stein creates with wood
By Margie Wuebker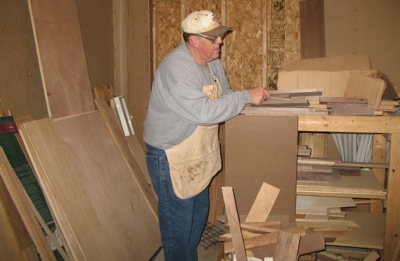 MARIA STEIN - The Rev. Ken Schroeder selects a walnut plank from one of the neatly stacked piles of lumber in his workshop and smiles envisioning the rich beauty lurking beneath the rough surface.
Schroeder, who heads the Marion cluster comprised of Catholic churches in Maria Stein, St. Rose, Cassella, Chickasaw and St. Sebastian, certainly knows his way around a maze of power tools ranging from a table saw and router to a planer and oscillating sander.
His fascination with woodworking began in 1973 after being named director of seminarians at St. Joseph College in Rensaleer, Ind. Needing a shelf for his living quarters, he wandered over to the woodshop.
"I asked a guy for help and soon discovered I could create things with my hands," the 71-year-old priest says. "I started collecting tools and doing little projects here and there like candlesticks and a large hymn board for the chapel."
His penchant for woodworking followed him wherever he went during the ensuing years, from his days as a military chaplain to Maria Stein, where he once taught religion as a seminarian.
Examples of his handiwork can be found throughout the church rectory. The piece de resistance - an impressive oak grandfather's clock complete with swinging pendulum - fills one corner of the dining room. He completed the project in 1998 working from 14 pages of detailed drawings and directions.
The man-size oak rocking chair in another room sprang from a desire to tackle a new challenge while the combination end table/magazine rack in the living room seemed like an ideal project using walnut cut from the woods of parishioner Denny Rethman.
Decorative mantle clocks, each bearing the bottom inscription "Handcrafted by Father Ken," tick off the minutes until they go to new homes like numerous quilt racks before them.
"Much of what I make ends up as gifts," he says. "It always pleases me when someone comes up and tells me 'Father Ken, I still have your clock.' I consider that a real compliment."
Several cradles he painstakingly fashioned have become heirlooms, including one made for a friend (Janie Klinefelder).
"Janie was in one of my high school religion classes," he says. "I didn't get the cradle finished in time for her first child but she used it for the next six and then passed it along to a daughter who has two youngsters."
He invested considerable time in creating another as a parting gift when his Fort Meade, Va., assignment ended. The Our Lady of Peace cradle goes from one home to another when someone in the congregation welcomes a new baby.
Years of woodworking have resulted in just one injury - a router cut to a finger requiring stitches. Schroeder now relies on safety devices like a "push stick" and the constant vigilance of his guardian angel.
"Things can go wrong when you get in a hurry," he says, adjusting a ball cap proclaiming life membership in the Handyman Club of America. "Unfortunately, none of us comes into the world with fingers to spare."
Hand tools hang in neat rows in the workshop he calls "My Shangri-La," bidding for attention with all sorts of power tools. The overhead sawdust collection system came from his brothers, retired attorneys who also enjoy woodworking.
"People tell me I must have sawdust in my veins," he says pulling on a trusty tool apron containing seven pencils, a felt-tipped marker and a short metal ruler. "I tried wearing a mask but then my glasses fog up and that's not good."
With music playing from a radio in the corner and the fragrance of freshly cut wood hanging heavy in the air, Schroeder is in his element.
"I was into making model airplanes as a young priest in Columbus and hated to quit for supper," the Putnam County native says. "Nowadays, I might want to finish just one more part but my stomach tells me it's time to head back to the rectory."
Schroeder especially enjoys working with red oak, walnut and cherry explaining their natural beauty is not readily available until the rough exterior has been planed, sanded and enhanced with a polyurethane finish or tungsten oil.
"There is no such thing as a board stretcher so I always measure twice before making a cut," he says. "Good wood is too valuable to throw away."
Mistakes happen occasionally but he has learned how to incorporate them into the overall design so people seldom notice, and he has managed to do it without losing his religion.
Schroeder, who ended a 22-year career as a U.S. Army chaplain in 2000 and came to Maria Stein as pastor the following year, will retire next summer and move to St. Charles Center near Carthagena. He has already "scoped out" the facility's carpenter shop and plans to bring along many of his own tools in order to create Shangri-La II.
"Woodworking is good therapy," he says. "It allows me to work through all the steps and see a finished product. Unfortunately, that is not always possible even in the ministry."