Wednesday, January 23rd, 2008
Celina picks up big road victory
By Gary R. Rasberry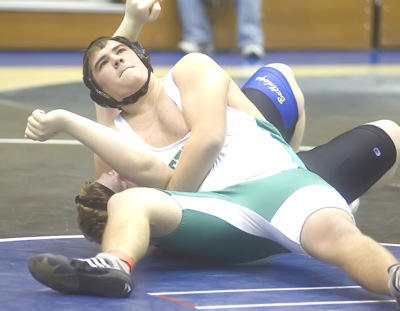 DEFIANCE - The Celina wrestling team took a step closer to wrapping up a perfect Western Buckeye League dual meet season with a 47-18 win over Defiance on Tuesday.
The win puts the MatDogs at 8-0 in league duals this season. Celina has its last league dual next Thursday at Ottawa-Glandorf, which had just one league win coming into last night.
Celina got the night started off perfectly, three pins in three contested matches. Steve Stoker got the fun rolling at 189 pounds against Glen Ward. Stoker, the defending WBL champ at the weight, took down Ward, turned him over for two more points, then got the pin in 1:21.
After Mitch Miracle got the easy hand-raise as Defiance voided out at 215, Codey Welker took on Nolan Bachelor at 285. Welker locked up Bachelor and took him down in perfect pinning position, getting the count at 1:13 to make it 18-0. At 103 pounds, Curtis Doner downed Zach Jimenez via the pin in 2:47 to raise the score at 24-0.
"Set a big gap there right at the beginning," said Celina coach Tim Doner. "Made it hard for them to catch up."
At 112, Celina's R.J. Baskett had a challenge against B.J. Miller, who entered the match at 27-0. Miller got an early takedown and back points, but Baskett battled the whole six minutes as Miller took an 8-2 decision for Defiance's first three points.
"Miller's a real good wrestler," said coach Doner. "Returning state qualifier. Him and R.J., it's not their first battle. They've battled off and on the past couple of years. They'll see each other again. Those close matches will make him better."
At 119, Joe Bonvilian, scored a reversal on Adam Bates midway through the second period and scored the pin at 3:34 to make it 30-3 in favor of Celina. At 125, Jordan Gonzales battled Tylor Thees. Gonzales raised his record to 18-3 on the season, but had to battle for the 7-3 decision.
Zach Hurst made it two straight decisions for Defiance, beating Jacob Meinerding 9-2 to cut the Celina lead to 30-9. Celina stopped the streak as Cody Doner pinned Cody Carnahan in 4:31.
At 140, Defiance's Cody Manon scored a 7-2 decision over Leo Olding in a solid contest. Alex Dues gave Celina its first non six-point win of the night, scoring a number of takedowns and near-falls on Kyle Esckilsen to pick up a 21-5 technical fall at 145 points.
Defiance got the last two contested bouts of the night as Terry Wagenhauser decisioned Tyler Temple 8-2 at 152 pounds. After Celina took a void win at 160, Patrick Millen earned a hard-fought 8-6 win over Joey Braun at 171. Millen led 6-0 at one point before Braun got a reversal and two back points late in the second period. Millen got a takedown early in the final period before Braun got a reversal to get to within two points.
"We didn't give up any pins," said coach Doner. "Kept their score down and we got some pins when we needed them."
Celina heads to Warsaw (Ohio) on Saturday for the annual River View Invitational.