Wednesday, January 23rd, 2008
Area residents mixing breeds for perfect pet
By Janie Southard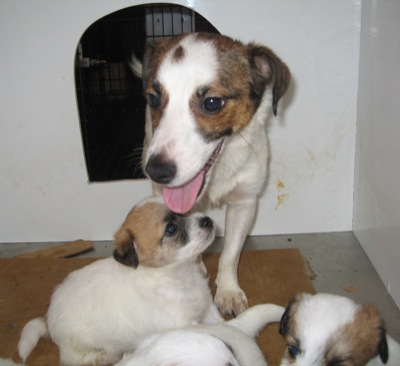 It's a what-kind-of-doodle? Labradoodle - the offspring of a Labrador retriever and standard poodle.
They're all the rage in the dog world along with other designer dogs like schnoodles, puggles, pompapoos, Jackatese, chugs - puppies from the union of two different purebred dogs.
Jill Hull and her family in Fort Recovery have a three-legged labradoodle named Kitty, who has seven wiggly puppies. Some of them are yellow, some chocolate and one is all black and very curly.
"He's the curliest. The others are wavy and some are straight, but they could all develop curls. There's really no way to know when they're this young," Hull says from her home southwest of town.
And, that's a big reason the American Kennel Club is withholding purebred status to this new phenomenon. The offspring of mated purebreds tend to be a jumble of unpredictable characteristics. Most breeders claim puppies from the original pairing will be the best actual mix of traits. After that it's apparently anybody's guess.
The Hulls got Kitty a couple years ago. Last summer she darted out in front of a car and ended up losing a hind leg as a result of the accident.
"We had planned to breed her but decided after the surgery we wouldn't. Then the vet said there was no reason not to and pointed out that Kitty is such a nice dog," Hull says as the squirmy puppies zigzag around their penned-off area in the family's mud room.
The vet recommended contacting a certain Amish family near Berne, Ind., who raise labradoodles and have a standard poodle as stud. The final result of that union came three weeks ago with the birth of the seven puppies.
Labradoodles originally were bred in Australia in the early 1970s in a sort of oops situation. They currently are not recognized as an official breed by the American Kennel Club, but when Guide Dogs Victoria became interested in the jaunty, low-shedding, friendly dogs, breeders got serious.
The first deliberate breeding was in 1989 in Australia specifically for the guide dog program and involved a Labrador retriever and a poodle. Because mixed-breed puppies still are not predictably standard (that is, their temperament, size, capabilities, etc., is not firmly established), AKC will not issue them purebred status.
However, the demand for these hybrid-type pups is ever increasing and so is the price. Depending on what part of the country the potential owner is in, a puppy could bring as much as $900 or more. The Hulls are asking $500 each for Kitty's pups, which apparently is in line with area breeders.
The low shedding trait comes from the poodle so that same low allergy risk is true of other hybrids, like schnoodles (schnauzer and poodle mix) and Jackapoos (Jack Russel terriers and poodles).
Hull says she is not a breeder so this litter will be Kitty's one and only. But Denise Borger of Coldwater is a dog breeder by choice, owner of Dee's Adorable Puppies, as well as working in the county auditor's office, and has bred schnoodles, Jackteses and Jackapoos among other designer canines.
Borger's dream has always been to have her own kennel and 15 years ago she took the giant leap. "It's a real commitment. (The animals) become part of the family. You can't just go away for the weekend without making arrangements for them," she says, adding her mother has always helped out.
She breeds primarily to achieve an even, pleasant temperament.
"I have worked with a lot of dogs (of the same breed) just to find one whose temperament is what I'm looking for (for breeding purposes)," says Borger, whose favorite "designer" variety so far is the Jack Russell terrier/Bichon Frise mix, a Jackchon.
The puppies of purebred parents, such as this first litter, are categorized as F1. Puppies of a purebred parent and a mixed dog (labradoodle), for example, are F2, which is what Kitty's pups are labeled. Many breeders say it's the first generation offspring of two purebreds (F1s) that exhibit the most consistency in cross types.
But, in her experience, Borger says it's the third generation (breeding two designer dogs) that carry the most predictable traits. But, it's also possible for the offspring to have the worst characteristics of both parents, grandparents, etc.
Thus, breeders like Borger are attentive to temperament and other desirable characteristics.
In the parents she looks for size, confirmation and temperament.
"You really do have to be careful or you could get some funny looking dogs," she says, adding her next puppy project will be puggles, a mix of pug and beagle.
Some original designer dogs and now longtime purebreds include: silky terrier, a cross of Australian terrier and a Yorkshire terrier; bullmastiff, a cross of bulldog and a mastiff; doberman, a cross of German shepherd and German pinscher.

Schnoodle: designer pooch or plain mutt?:
Some say behind the rotadors, maltoodles, doxiepoos and other cleverly named designer dogs is a common mutt, a Heinz 57. But not everyone agrees.
There are established breeders of purebreds who are lobbying the American Kennel Club to grant purebred status to various designer dogs - pups of two mated purebreds.
The argument is based on society's changing lifestyle. Breeds in the herding, hound and working groups are just too large and too active for apartment or condo living. Certain statistics cite the fastest growing group of dog purchasers are retirees who typically are downsizing and want a dog small enough for RVs and patio homes.
According to Louise Louis, creator of www.ToyBreeds.com, every breed recognized by the AKC began with cross breeding for specific reasons.
"The pampered Yorkshire terrier began life as the product of at least three other terrier breeds and was bred down in size ... to catch rats and other small mammals.
"As usual, the AKC is mired in yesterday and attacks the popularity of these dogs as being nothing more than high-priced mutts," she wrote on her Web site, adding that there may be some truth to that statement. "But the unwillingness of the AKC ... to support the process of creating official dog breeds is the reason for that."
- Janie Southard