Saturday, January 26th, 2008
Remembering the blizzard of 1978
By Shelley Grieshop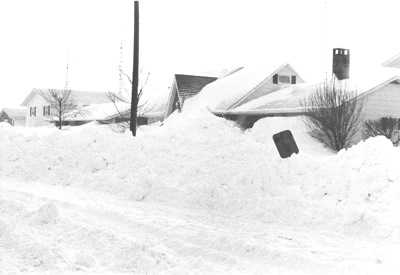 The Blizzard of 1978 went down in history as the most brutal winter blast Mother Nature ever threw at the Buckeye state.
Even today, the mere mention of the unprecedented storm - which officially struck on this date 30 years ago - stirs vivid memories of roof-high snow drifts and families left homebound for days.
The storm brought much more than snow, raging winds and bitter cold - it delivered a spirit of fellowship and brought out the best in local residents, as was evident in the volume of stories recalling the blizzard received by The Daily Standard.
"People helped people," says Paul Gray, former sheriff of Mercer County and a road patrol sergeant in '78. "People in stranded cars were taken into houses and taken care of as if they were family."
The Blue Room survivors
The small burg of Philothea, southwest of Coldwater, quickly became isolated by the falling snow and 70 mph easterly winds.
"(Resident) Leander Heckman always said that when it came from the east it would be a big storm. And it was," states a diary of events written by townspeople.
A county snow plow got stuck downtown and remained there for days. In order to reach Paul and Dorothy Raffel's small grocery store - the town's only store - a 25-foot tunnel was dug with a rest stop carved halfway through.
With flour from his shelves and fresh milk from a nearby farm, Paul Raffel baked and supplied bread to his neighbors. The businesses' popular Blue Room, a bar/restaurant now called the Philothea Country Club, was the gathering place for anyone who could make it. Cards were played through the night and a bowling tournament was held on the small game machine in the corner.
"We had good food, cold beer and lots of laughter for many days," the diary reads.
Neighboring dads and kids kept Hemmelgarn & Sons' egg business alive when employees couldn't report to work. Days later the eggs were picked up by the Army National Guard and delivered to needy areas around the state.
Blizzard baby
Although Terry Huser of Celina was due any day, the rising drifts outside her home at Grand Manor trailer park didn't worry her, she says. That quickly changed at 1 a.m. Jan. 26, when she began having contractions.
"I called my father-in-law and he called Gibbons Hospital to send an ambulance. But the ambulance and (two) snow plows got stuck," she says.
A snowmobile was summoned and picked up Dr. James Otis who eventually delivered the newborn at home.
"Dr. Otis didn't realize until later that he had walked over our car to get into the house," Huser says laughing.
Huser and her husband, Mike - first-time parents - welcomed 6-pound, 12-ounce Kristin Huser (now Rutledge) into the world at 12:32 p.m. Jan. 26. A nurse living nearby assisted. Mom and baby never did make it to the hospital.
"It only cost us $200 - our bill from Dr. Otis," Terry Huser says, adding insurance happily reimbursed.
Due to downed phone lines, Terry Huser's parents in rural Celina couldn't be reached. They eventually heard about their new granddaughter the following day on radio station WCSM when Kristin was dubbed Citizen of the Day.
"She's still known as the blizzard baby," Terry Huser adds.
Happy 30th birthday Kristin.
Milk to spare
Closed roads meant no milk trucks to haul away product and that spelled trouble for many area dairy farms. Cows had to be milked or they'd get sick, so many farmers were forced to dump their milk. However, frugal-minded farmers' wives became quite resourceful.
"I never made so much hot chocolate and butterscotch pudding in my life," says Martha Dues of Fort Recovery.
The week proved to be another first: the milking parlor had to be shoveled before the cows could enter, she says.
"What an unbelievable mess," says Dues, now 82.
Stuck indoors
The weather forced local folks to stay indoors for days. Pat John of Mendon sat at her sewing machine and watched the snow fly outside her window. Working on a queen-size quilt, she soon realized she was short on backing. It was time to barter.
"A neighbor down the road needed toilet paper and she had enough strips, 4-inch wide, for my quilt. My husband went on the snowmobile and traded toilet paper for fabric," she says.
There's snow place like home
Snow found its way through tiny cracks around windows and doors. Fran Siefring, who was living a few miles west of Coldwater at the time, found snow in her home as she awoke the morning of the 27th.
"The wind pushed the snow through our windows. There were piles of snow in the rooms to the west ... We also had snow in our attic."
Clocking in, staying put
The lightning, thunder and unusually warm temperatures that rose into the 40s on Jan. 25, just days before the blizzard, left some residents unprepared for what laid ahead. Many went off to work that night only to became "house guests" on the job.
Third-shifters Jayne "Chick" and Roger "R.G." Selby of Celina ended up stranded at Goodyear Tire & Rubber Co. in St. Marys. They worked their normal shift and four extra hours when others couldn't make it in.
"We were told the canteen machines were open and we could eat anything at no cost to us," says Jayne Selby.
With nowhere to go, the couple made a nest on a warm spot on the floor in the paint room to get some rest.
"The floor was toasty warm, so we got big packing boxes and laid them on the floor and covered ourselves up with our coats for added warmth," she adds.
When they finally headed for home two days later, they happily discovered the wind had swept their driveway free of snow. Their relief was short-lived as they opened the garage door. There was shoveling to do after all.
Also stuck at work for days was Celina resident Phil Schlotterer, a Crown Equipment Corp. worker. He recalls telling fellow workers he was going home "one way or another" when the storm subsides.
"Saturday at 6 a.m. was bright and sunny. I told my friends I was walking to Celina and that's what I did," he says.
He was 20 and in good shape but opted to walk the fence line instead of climbing the 10- to 20-foot tall snowdrifts that now stood like fortresses along state Route 66. As he trudged onward, west of St. Marys along state Route 703, a Good Samaritan picked him up and drove him home to his awaiting wife and 1 1/2-year-old daughter.
"As far as my little walk, it's not that amazing to me. Our grandparents walked a lot. It was so quiet and peaceful," he says. "I had a family to attend to and God helped me."
No one was left stranded at The Daily Standard in Celina. However, the newspaper did not publish a full edition on Jan. 26 or 27 - the first and only time in the company's history to miss two consecutive days of publication.
Ain't no mountain high enough
Road, highway and street crews had their hands full but pressed on. Jim Johns, a Noble Township Trustee in St. Marys for more than 30 years, was a mere rookie at the time.
Although he lived less than a mile from the township garage, it took a snowmobile to get him there. As a direct result of the blizzard, local officials now keep a list of snowmobile owners to tap for future disasters.
Johns says the township trucks with "V" blades proved more efficient in the deep snow but often needed rescued by farm tractors.
"I learned how to plow during the blizzard and it's all been downhill since," he adds with a laugh.
A cold winter walk
Former Coldwater Mayor Mauri Cron felt "like the last person on earth" as he walked the village's Main Street toward city hall on Jan. 27, he says.
"There wasn't a light on anywhere, the wind was blowing, signs were creaking. It was an eerie feeling," he says.
Students were organized by the school to shovel snow away from storefront windows; officials feared the big equipment would bust the glass if it got too close, Cron adds.
Churches, such as Holy Trinity in Coldwater, and other sites around the county became makeshift Red Cross shelters where residents without power came to get food and warmth.
My daddy, my hero
Becky Whitsett's family had just moved to a new home - not yet bricked - on Lange Road in St. Henry when the blizzard hit. Her mother, Eileen, herded her children to the warmest room in the house and kept them distracted by directing each to draw pictures and write about the storm.
"Even though my mom was great during this trying time, it was my dad, Charles "Bud" Whitsett, that really came through for so many people," she explains.
As the head of maintenance at the hospital in Coldwater, he stood on the hospital roof, sometimes for hours, keeping the large vents open so the heating system wouldn't shut down.
"It wasn't until I was much older that I realized what a brave man my dad was and is," she says of her parents who now reside in Coldwater.
Incidentally, Becky Whitsett's sister Beth and her family now live in the Lange Road home. And, Whitsett is happy to report, it now has bricks.
- Editors note: The Daily Standard is grateful for the overwhelming response from readers who contributed stories and photos from the blizzard of '78. We chose a variety of stories and wanted to extend a thanks to those who took the time to comment, even though all could not be included.

The Great Blizzard of '78 - What happened?:
Record-breaking low pressure systems from the Gulf of Mexico and North Dakota combined forces over Ohio on the eve of Jan. 26, 1978, to create a weather phenomena that shocked even meteorologists.
Oddly, temperatures the day before, a balmy Wednesday, rose into the 40s with little hint of the mayhem that was to begin that night. Rain was predicted to turn to snow with the possibility of 2 to 4 inches accumulating.
But by 9 p.m., the warm and cold air masses collided and blizzard warnings were issued across the state. As the wind picked up, power lines fell and caused statewide outages.
More than a foot of snow on the ground from previous snowfalls combined with the blizzard's gift of 13.2 inches, giving the powerful winds plenty of ammunition to form mountainous barricades. Roads were impassible and stayed that way for nearly a week; visibility was less than 50 feet.
Homes and farm buildings nearly disappeared under the drifts, which piled against doors and windows, trapping some residents inside without heat, water or other necessities. Two Mendon residents were rescued by snowmobile Jan. 27 when their kitchen filled with blowing snow.
As the arctic air arrived, temperatures rose to a high of just 10 degrees for several days. Area schools remained closed for six days. Due to heavy snows the previous month, local students missed a total of 15 days of school by Jan. 31.
In all, nearly three dozen people died in Ohio due to the blizzard including 70-year-old Reinhard Rain of New Knoxville, who suffered a heart attack walking to a neighbors' home.
Agricultural losses totaled $73 million.
The 34.4 inches of snow that fell in January 1978 still remains the most snow ever measured in any single month. The winter season snow total for 1978-1979 was 72.5 inches - more than double the average.
The last of the "blizzard snow" finally melted away in northwest Ohio on May 5, according to the National Oceanic and Atmospheric Administration.
- Shelley Grieshop