Wednesday, January 30th, 2008
Severe storm looms
Strong winds rock Grand Lake area overnight; snow, ice expected
By Shelley Grieshop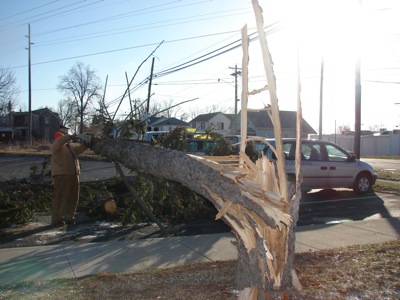 Tuesday's severe thunderstorm brought wind gusts reaching near hurricane force in portions of the Grand Lake area - but what's coming could be much worse.
A winter storm is expected to arrive Thursday night and bring up to 7 inches of snow and ice to the region through Friday.
The overnight storm with wind gusts in excess of 50 mph in most areas downed trees and limbs and left hundreds of Grand Lake residents without power. However, emergency dispatchers in Mercer and Auglaize counties reported no injuries or serious damage. More than a half-inch of rain and a high temperature of 51 was recorded on Tuesday.
Wind gusts in the Fort Loramie area peaked at 72 mph, just 2 mph shy of the minimum speed of hurricane winds. The highest wind gusts noted at the Neil Armstrong Airport in New Knoxville registered 50 mph at 6:35 a.m. today.
About two dozen area residents still were waiting on power to return this morning, according to Midwest and DP&L officials. One of the casualties of the high winds was an electric pole along state Route 118, south of Coldwater, which broke and fell over.
The wind was expected to die down by noon today. However, the temperature at 9 a.m. today was 8 degrees with a windchill factor of minus 20 degrees. Temperatures were forecast to climb to 16 today and 30 on Thursday.
Meteorologists are closely tracking the newest storm on the radar, which is set to arrive Thursday night with snow and ice. A winter storm watch has already been issued by the National Weather Service (NWS), an unusual move two days in advance.
"This probably will be the most significant snowstorm we've had yet this winter," said Myron Padgett, a meteorologist with the NWS in Wilmington.
Padgett said it's early yet and officials aren't clear how the storm will veer but it has the potential to bring 4-7 inches of snow, sleet, freezing rain and ice, making travel hazardous.
"There's definitely a lot of uncertainty yet on numbers and direction but right now we can say it's heading your way," he told The Daily Standard this morning.