Thursday, January 31st, 2008
A mountain of ice at Lake Campus
By Shelley Grieshop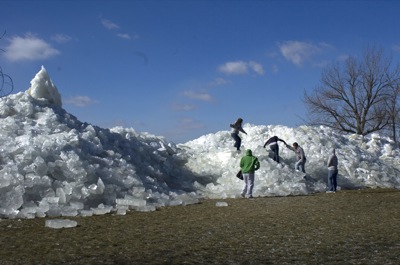 An ice phenomena towering more than 15 feet high is drawing spectators to the Grand Lake shoreline near Wright State University-Lake Campus.
Sparkling slabs and hefty cubes of ice of all sizes - each averaging about 8 inches thick - were blown off Grand Lake during Tuesday evening's gusty storm. The glassy-looking cubes landed haphazardly on shore behind the branch campus along state Route 703.
"It's pretty weird," said Dr. Chuck Ciampaglio, a geologist and professor at the campus.
Ciampaglio spent a portion of his day Wednesday examining the ice oddity that stretched approximately 50 yards along the shore. He even brought his students to see it and learn about its formation, he added.
"Some pieces (of ice) were about 100 pounds or more," he said, adding weather conditions were just perfect to create what he called a "mini iceberg or glacier."
Unseasonably warm temperatures Sunday and Monday caused some melting and created "seams" in the ice on the lake, he said. The 50 mph-plus winds that arrived Tuesday evening easily pushed the partially-melted ice along in a northeasterly direction. The crescent-shaped shoreline behind the university funneled the flowing ice to that particular spot, he explained.
As the ice hit the shore, it began to form a slope that, piece by piece, became taller and taller and taller, he said. Many of the chunks came crashing down on the other side, spilling out across a walking path near a small inlet.
"The lake has some strange dynamics," Ciampaglio added.
Grand Lake St. Marys State Park Manager Craig Morton said a similar incident occurred at the lake a few years ago at the beach east of the state park office.
"As I remember, that one was about 15 to 16 feet tall," he said, adding the wind at that time also brought ashore boulders weighing 500 pounds.
Morton said he's seen the unusual ice formations reach more than 20 feet tall at Kelleys Island on Lake Erie, where he previously worked.
"There were some that threatened buildings on shore," he said. "They had to call out bulldozers and even dynamite to remove them. 'Course, that's not the case here."
At the Lake Campus, students periodically braved the bitter cold Wednesday to see and sometimes climb the structure. Morton said that's really not a good idea.
"The park strongly recommends that people stay off the ice piles. Somebody could get hurt," he said, advising the public to admire it safely from a distance.
The lake's newest tourist draw could disappear tonight beneath a coating of 4 to 8 inches of snow and ice, which is expected to strike late tonight and continue through Friday.