Wednesday, February 6th, 2008
As nearly 4 inches of rain fall, area homes evacuated, roads closed
By Shelley Grieshop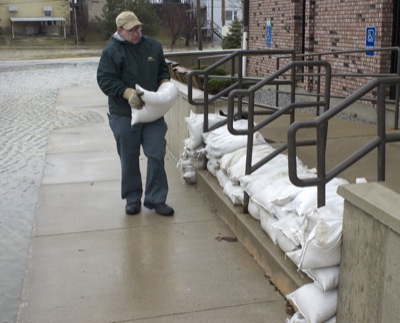 Numerous roads are closed and at least a dozen area homes were evacuated overnight following heavy rains that soaked the area since Monday night.
Nearly 4 inches of rain has fallen in the Grand Lake area during the last 36 hours and approximately another half inch was expected to arrive by mid-afternoon today when local rivers and creeks will likely crest, according to the National Weather Service.
"The ground is frozen over like a parking lot," said Eric Thomas, engineer and village administrator for Coldwater. "The water is just running everywhere."
Thomas said the village has received reports of about 100 homes affected by the flooding. Kindergarten students got a day off Tuesday when the basement of the elementary school received sewage back-up from the sanitary system, he said.
The village normally pumps 1/2 million gallons of water daily at the wastewater plant; 31/2 million gallons have been pumped the last two days, he said.
"Everything's at capacity but it just can't keep up," Thomas added. "The water has to go somewhere."
Officials across Mercer and Auglaize county echoed the same sentiments. The ground is frozen and the water cannot be absorbed like it would in the spring and summer.
Troy Anderson, director of the Auglaize County Emergency Management Agency (EMA), said water rescues from homes began early this morning in Wapakoneta, where the Auglaize River was out of its banks.
"They (rescuers) have rescued eight or nine people since 4 o'clock this morning," Anderson said.
Sandbagging was ongoing at press time today at the Celina Medical Center on South Main Street, which suffered more than $1 million in damage in the massive flood of 2003. Although the water wasn't yet close to the protective cement barriers built around the building following the 2003 flood, officials weren't taking any chances.
U.S. 127, south of Celina, remained open at 10 a.m. today as city crews removed 5-foot-high piles of foam along the Beaver Creek bridge. Water was flowing just 4 inches below the bridge and expected to rise as water from Grand Lake continued to dump into the creek.
Jeff Larmore, co-owner of Lake Contracting in Celina, said his crews have been working nearly round the clock since 3 a.m. Tuesday, helping residents pump water out of basements. In some instances, the water - as high as 2 feet - has ruined water heaters and furnaces.
"It's a chain reaction of bad things," he said.
In some instances, his crews have installed an additional sump pump in homes to get rid of excess water, he said, adding they've made about 50 house calls since Tuesday.
As area waterways continue to rise, more streets and roads may become closed and officials are asking motorists to avoid those areas completely.
"We've got people driving around road closed signs and through high water areas," said a frustrated Anderson. "They're not only putting themselves at risk but the lives of rescuers who have to go out and get them when they get stuck."
Local weather forecaster Dennis Howick said normal rainfall totals for February are 2.05 inches.
"We're almost twice that already," he said. "We've gotten two months of rain in two days."
A flood warning remains in effect until at least 2:30 p.m. today for Mercer and Auglaize counties. Rain is expected to turn to snow tonight as temperatures drop to freezing. Less than a half inch of snow is expected to accumulate by this evening, according to the NWS.