Wednesday, February 6th, 2008
Defense carries Flyers to win over Roughriders
By Gary R. Rasberry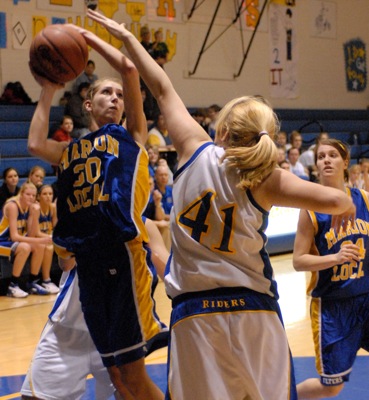 ST. MARYS - Solid defense helped Marion Local take control early and roll to a 42-27 win over St. Marys in non-conference action on Tuesday night at McBroom Gymnasium.
The Flyers improved to 8-10 on the season as St. Marys had a four-game winning streak snapped to fall to 13-6.
In a change from a week ago, when Marion committed nearly 30 turnovers in a loss to St. Henry, it was the Flyers causing havoc by forcing turnovers as St. Marys committed 28 in the contest.
"That's the opposite end of the spectrum, isn't it? I'll take that any day," said Flyers coach Treva Fortkamp, whose squad had 15 turnovers. "I thought it was a great defensive effort. I thought we were very active, not just one or two, but all five. Whoever I put out there got some steals and some fast breaks, which I knew this team was capable of. Hopefully we're coming together at the right time."
Marion Local led 10-7 after the first quarter and had its lead cut to 10-9 right off the bat in the second quarter on an Erika Thornsberry bucket. That would be the last score for St. Marys for nearly four minutes as the Flyers went on a 6-0 run, forcing three turnovers and a number of rushed shots out of the 2-3 zone. Marion went into the half up 21-13.
"I thought it was good that Megan (Barhorst), or whomever I put in that center spot, was able to deny that high post. It starts there," said Fortkamp. "If they're (Roughriders) able to get the ball to that high post, they have a lot of options: They can look outside, they could look low. We did a good job of denying that. I thought our guards did a specifically good job pushing their guards out away from the three-point line, not giving them easy looks."
St. Marys coach Tim Niekamp knew turnovers were going to be a concern.
"I just told the kids I thought, in the first half, our physical effort was there, but our mental effort wasn't there," said Niekamp. "We didn't do things to put their zone in conflict enough. We starred at the spot where we wanted to throw the ball, didn't make our countermoves and counterdribbles and allowed them to match up. It ultimately caused turnovers."
The Flyers continued to raise their lead as the second half went on, leading 37-19 after three quarters, then getting more subs in during the fourth quarter to pull away.
Barhorst had a strong game inside, leading all players with 12 points while Brittany Thobe added 11 points.
St. Marys, playing without an injured Emily Shellabarger, got seven points from senior Kori Howell in her final game at McBroom. Emily Steva, another senior, and Erika Thornsberry added five each.
Both teams wrap up regular-season play on Thursday. Marion Local plays host to New Knoxville at The Hangar while St. Marys travels to Kenton.