Friday, February 22nd, 2008
Celina wins in defensive struggle
Wildkittens roar past Roughriders
By Ryan Hines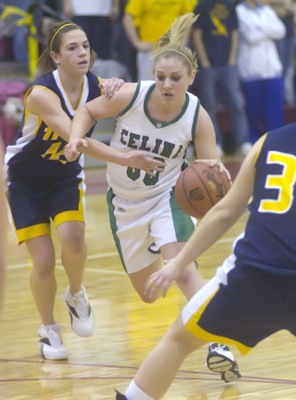 LIMA - There were four teams in action on Thursday in Division II district semifinal action at Lima Senior High School, but only one team seemed to have brought its offense.
Lima Bath, the states third-ranked team in D-II, hit 11 three-pointers on the way to a 75-37 pasting of St. Marys.
In the nightcap, Celina scored a season-low points but still cleared a few late hurdles before slipping past Ottawa-Glandorf, 28-26.
The Bulldogs (19-3) now face the Wildkittens (21-1) for the district title on Saturday night at 7 p.m. Bath beat Celina 73-57 on Jan. 31 during their regular-season matchup between the two Western Buckeye League co-champs.
Celina 28, O-G 26
Points were certainly at a premium in this one, but fans from both sides were on their feet until the final buzzer sounded, nonetheless.
Celina had a chance to make it a comfortable win, but made just 1-of-5 free throws in the final 48 seconds of play, including misses on the front end of three one-and-one situations.
"We have confidence in all of the our girls when they go to the line, but tonight they just didn't fall for us," said Celina head coach Brian Stetler. "It will normally come back to bite you when you miss free throws like that, but luckily tonight it didn't."
The Bulldogs' dismal showing at the charity stripe allowed O-G a chance to win the game, or force overtime, as the Titans had the ball down two points at 28-26 with 6.9 seconds left to play.
O-G put the ball in Brittany Kiracofe's hands and she surveyed the court before rubbing off three screens on her way to the basket. Kiracofe put the ball in the basket off the glass, but it came just after the horn sounded and the Bulldogs escaped with the win.
"We got what we wanted on the final shot, but it was just a half-second too late," said Ottawa-Glandorf head coach Lori Smith. "I don't know if Brittany didn't know how much time was actually left in that situation or what, but I thought that she took too much time when she initially got the ball. I think that we had the play called that we wanted, but like I said, it was just a half-second too late."
Celina's defense, led by another outstanding effort from Kelsey Waterman, limited O-G to just 8-of-36 shooting from the field (22 percent). The Titans were held scoreless for the final 1:50 of the game.
"Celina's defense was exceptional again tonight and I didn't think that they could do that to us two games back-to-back, but their defense deserves a lot of credit," said Smith. "Without a doubt, this was the biggest offensive struggle that we've had all season long. We had a great week of practice and a great game plan, but it just wasn't meant to be."
Celina's post tandem of Cenzie Yoder and Liz Homan outperformed O-G's duo of Madalyn Shalter and Chelsea Maas. Yoder was a perfect 7-of-7 from the field for a game-high 14 points and Homan hit 3-of-3 to total seven points while the combo of Shalter and Maas were 4-of-15 shooting for just eight points combined.
Stetler knows his team didn't play up to its capabilities, but also realizes that it's all about surviving and advancing in the postseason.
"I told the girls that it wasn't the prettiest game that we've played this year, but in tournament time you just have to be ahead at the end and that's what we were tonight," said Stetler. "We're happy to be moving on."
Bath 75, St. Marys 37
Too many St. Marys turnovers and a three-point barrage by Bath in the second half added up to a lop-sided Wildkittens win.
The Bath defense set the tone in the first half by forcing 15 turnovers and the Wildkittens took a 29-13 lead at halftime. The Roughriders turned the ball over nine times on their first 10 possessions.
"I think that we really played a very good defensive game by forcing turnovers and in the halfcourt," said Bath head coach Greg Mauk. "We got a few turnovers and then turned them into some easy baskets at the other end to build our lead."
Bath put the game out of reach in the third quarter by outscoring St. Marys 33-15 for a 62-28 advantage entering the fourth quarter.
"We've lost some games, but we really never let one get away from us like tonight," said St. Marys head coach Tim Niekamp. "They scored 33 points in the third quarter and I'm quite sure that's the most points that I've seen a team score in a quarter since I've been coaching."
After only two treys in the first half, Bath hit nine in the second half. The Wildkitten had seven different players hit at least one three in the game.
"In the past we were able to get out on their shooters and reduce their percentage, I don't know what their percentage was tonight, but it had to be pretty good," said Niekamp. "Once they relaxed and found their groove, there was pretty much no stopping them."
"I think that we were 2-of-13 (on threes) in the first half and sooner or later we're going to hit those threes, we certainly take enough of them," said coach Mauk, who watched his team hit 11-of-36 from behind the three-point line in the game. "I think that we settled down and shot the ball with more ease in the second half. I'm blessed with some kids who can shoot the ball."
The Mauk girls paved the way for Bath as Rachel hit for a game-high 21 points while sister Stefanie scored 19 points. Alex Dackin also hit double figures for Bath with 14 points.
St. Marys shot 16-of-29 from the field (55 percent), but 31 turnovers spelled doom for the Roughriders.
Erika Thornsberry was the lone Roughrider in double figures with 14 points.