Monday, February 25th, 2008
Red Cross volunteers in short supply
By Shelley Grieshop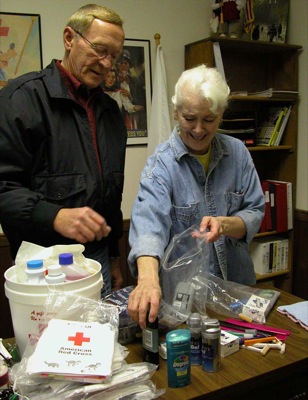 Local residents could get shortchanged in a disaster situation if volunteers don't come forward to participate in upcoming training classes.
Mercer County currently has just four trained disaster volunteers, and none of them have taken the required classes with simulated crisis scenarios, according to interim Executive Director Deb Hemmelgarn of the Mercer County chapter of the American Red Cross.
A series of training sessions for new volunteers begins next month in Celina. Hemmelgarn said she hopes to see lots of new faces come aboard.
"Our (current) disaster volunteers help provide needed assistance with single family fires and other disasters such as the floods we just experienced," Hemmelgarn said. "The free training that we will be providing will prepare the volunteers for these events, but also, God forbid, multi-family fires, tornadoes, etc."
Local Red Cross volunteers are sometimes asked to go to other areas in Ohio or across the country to help communities facing catastrophic events. One of the worst disasters in U.S. history was Hurricane Katrina and the unorganized confusion that followed as thousands of people sought help.
Rescuers were knee-deep in the chaos across the Gulf states when Hurricane Rita devastated the Texas area two months later in September 2005. Marce Nietfeld of Celina answered that call for help.
"I was shipped to San Antonio where evacuations were going on at the Air Force Base there," said the 61-year-old retired Reynolds & Reynolds worker. "It was a tremendous exercise in mass confusion. It's very difficult to get people in places where they're needed most."
Nietfeld and Burkettsville resident Dan Werling helped out in Texas for three weeks and saw firsthand the problems that result from a lack of organization and trained volunteers. Nietfeld said his first job was answering phones and directing victims, which wasn't easy since he was not familiar with the area.
"Our mission with the Red Cross was to feed and house people temporarily. At one point there were 14,000 evacuees there. It's not as simple as it sounds," he added.
Later, he assisted victims by issuing vouchers to qualified people and then became a nighttime monitor at the Air Force base.
"It was a good experience, very testing, and tremendously rewarding," he said. "I'm ready to go anytime."
Hemmelgarn said volunteers who choose to go to areas outside the local region are provided food, housing and other necessities through the Red Cross.
Being able to meet the needs of people hundreds of miles away or in our own neighborhood is what the Red Cross is all about, she said. Being prepared is the key, Hemmelgarn added.
"In cases such as Katrina or any disaster, people all want to help but so many times it can be overwhelming with trying to deal with events of the disaster and to train volunteers," she said. "It's much easier to be prepared."
Duties of a volunteer can include casework, communications, opening and maintaining shelters, feeding people and providing various types of assistance depending on the emergency.
"There is a job within the Red Cross for anyone of any age, race or education field," Hemmelgarn said.

American Red Cross:
What: Disaster volunteer training
When: Each Thursday in March from 7-9 p.m.
Where: Red Cross office, 117 S. Main St., Suite B, Celina
Cost: Free
Details: Anyone interested should call the local Red Cross office at 419-586-2201 to register. Also, participants should register at the American Red Cross Web site at www.redcross.org. Go to "Disaster Services" and click on "Introduction to Disaster Services Course" at the right of the screen.