Tuesday, March 18th, 2008
Motorist in fatal crash charged with driving intoxicated
By Margie Wuebker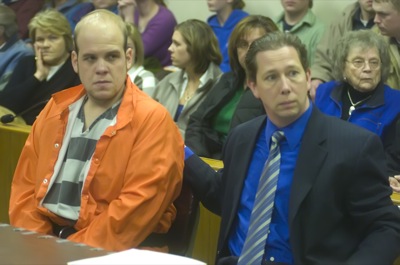 Nicholas Schwieterman, the 22-year-old Chickasaw man charged in connection with the deaths of four area men, appeared in Celina Municipal Court on Monday afternoon to face four counts of aggravated vehicular homicide and two counts of operating a vehicle while intoxicated.
Schwieterman was arrested on the second-degree felony charges in the wake of the early Saturday morning crash. Authorities filed the additional OVI charges prior to the initial appearance after test results indicated his blood-alcohol content registered 0.134. The legal limit in Ohio is 0.08.
Mercer County Sheriff Jeff Grey said investigators have received search warrants for the impounded cars and representatives of the Ohio Bureau of Criminal Investigation and Identification will be on hand this morning when evidence is collected from the cars.
The sheriff's office occasionally requests assistance from BCI & I evidence technicians depending on the seriousness of the case.
"I want to be able to have answers for the parents," he said. "And we don't want to overlook anything in our investigation."
Schwieterman appeared shaken and near tears when led into the small courtroom packed with family, friends and news media. He looked briefly toward his parents, Bob "Buster" and Linda Schwieterman, before taking a seat beside Dayton attorney Scott M. Calaway.
Calaway entered not guilty pleas on his client's behalf and made no request about lowering the $1 million bond set in the case, adding the matter would be brought up for discussion at a later date.
Judge James Scheer noted the case would be handled through Mercer County Common Pleas Court given the serious nature of the felony charges. Each count of aggravated vehicular homicide carries the possibility of up to eight years in prison and a $15,000 bond upon conviction. Additionally, Schwieterman faces an operator's license suspension ranging from three years to life.
When asked whether he had any questions, Schwieterman answered "No sir" in quiet fashion before being led from the courtroom to a waiting sheriff's cruiser.
Schwieterman, a Marion Local High School graduate who completed computer studies at Sinclair Community College in Dayton and works in Columbus, was driving westbound on Brockman Road when he reportedly failed to stop for a stop sign at the County Road 716A intersection just north of St. Sebastian.
His 1996 Pontiac Bonneville struck a northbound 1995 Pontiac Grand Prix driven by Jordan M. Moeller, 18, 8399 Brockman Road, Celina, who was killed in the crash. Also pronounced dead at the scene were his passengers: Jordan M. Diller, 19, 1553 state Route 716, Maria Stein; Jordan Goettemoeller, 19, 7766 Fort Recovery-Minster Road, Maria Stein; and Bradley Roeckner, 19, 8425 Brockman Road, Celina. All four were members of the Marion Local Class of 2007.
Kyle Schmitmeyer, 21, 7915 Clover Four Road, Celina, the lone passenger in Schwieterman's car, was present in the courtroom to support his friend. He faces a charge of obstructing justice with his initial appearance continued to March 28. The charge alleges he made false statements intended to mislead investigators at the accident scene and was uncooperative.
Several attended the court proceeding, including four young men wearing suits and ties. One member of the somber delegation said they were heading to funeral homes to express their condolences to the families of Goettemoeller and Roeckner.
"We wanted to be here for Nick," an unidentified man said before leaving the courtroom.
Scheer spoke of the tragedy and the loss of four young men saying, "This is a difficult situation for all involved. We live in a tight-knit community and it's difficult for all involved. Our thoughts go out to everyone, both sides, everywhere."
Calaway, who has been retained along with partner Mark Ross, said the grand jury will meet Thursday and is expected to return indictments. He added an initial appearance in Common Pleas Court will take place Friday with Judge Jeffrey Ingraham presiding.
"Given the emotions that are flying around here, we're going to go with a flat 'no comment' today," Calaway told The Daily Standard after the proceeding. "We will have a formal statement Friday."