Wednesday, March 26th, 2008
Winds brought roof and bricks tumbling down
By Janie Southard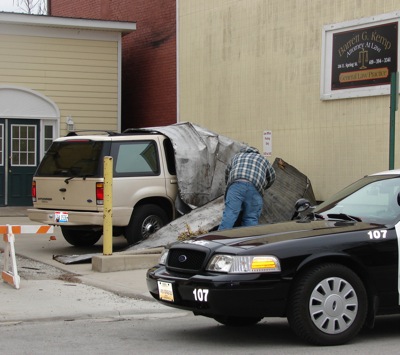 ST. MARYS - A gust of wind Tuesday afternoon tore off a portion of a downtown roof, which not only fell on a parked car but wrapped itself around it.
Downtown shoppers heard a loud crack of metal around 1:30 p.m. Tuesday and then a crash in the 200 block of Spring Street.
"That's about the time we got the call," St. Marys Police Chief Greg Foxhoven said this morning.
A parked, unoccupied 1996 Ford Explorer belonging to Michael Dougherty of St. Marys sustained moderate damage when the roofing material wrapped around the vehicle.
The roof portion also struck a chimney and sent some bricks crashing onto the sidewalk, which was barricaded off as soon as the city police arrived.
"Some other bricks were teetering and another section of roof was lifting up with every wind gust, which was another big reason to barricade the sidewalks," Foxhoven said.
The building is owned by Ronald Neargarder of St. Marys, who acted quickly to get the roofing secured.
No one was injured.