Tuesday, April 8th, 2008
Local teams to play on professional diamond
By Gary R. Rasberry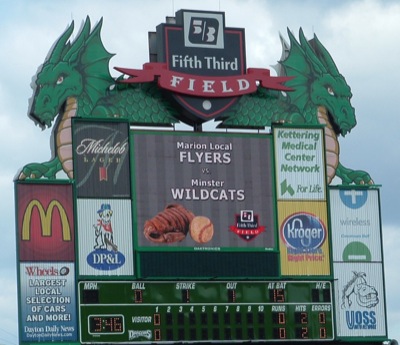 If it appears that Dayton's Fifth Third Field has a bit of a Midwest Athletic Conference feel in the upcoming weeks, it's not an illusion.
Eight of the 10 MAC baseball teams will play games at the field of the Dayton Dragons, Cincinnati's Class A farm team during the season, part of a program with the Dragons that allows high school teams the chance to play on a professional diamond.
In all, Fifth Third will play host to 24 high school games starting April 11 and concluding May 1.
The MAC will be featured in seven of the 24 games, including a league matchup between Coldwater and Fort Recovery.
"Getting a chance to play at Fifth Third Field is an experience for these young guys, going to play on an exceptional ballfield," said Marion Local coach Greg Bruns, whose Flyers will face Fort Loramie on April 27 at the stadium. "I left it up to the guys if they want to go back and play. ... The boys all said they wanted the opportunity."
Last year, Minster and Marion Local faced off in a conference tilt at the stadium, with New Bremen playing regional rival Fort Loramie on the same day.
Seeing last year's entry for three league teams, it didn't take long for other conference teams and coaches to want to take their chance.
Like the three teams did last year, the caveat of playing at Fifth Third is selling tickets for future Dragons' games. That process, though, was not a hard one.
St. Henry coach John Dorner admitted that his squad had some interest, but when another team that had an opening to play offered the Redskins the chance to go, Dorner jumped at the opportunity.
"We just kind of stepped into it," said Dorner, noting that St. Henry and Marion Local played at Cooper Stadium, the home of the Class AAA Columbus Clippers, several years back. "We thought it would be something nice to look into. About the time I was thinking about that, coach (Mitch) Hirsch (who formerly coached at New Knoxville) calls from Covington and said they had a date (April 27) and wanted to know if we wanted to play. I said 'Yeah, that would be great.' "
April 12 will feature MAC teams as part of two-thirds of a tripleheader at the field. New Bremen, who beat Fort Loramie last year in Dayton, will play Jackson Center at 1 p.m., followed by the conference showdown between Coldwater and Fort Recovery at 4 p.m.
For Coldwater coach Brian Harlamert, who played his college ball at the University of Dayton, it's a great chance to take.
"When Shane (Fort Recovery coach Shane McKibben) called to discuss it, I thought it would be great," said Harlamert. "It's one of the better days to choose from: a Saturday afternoon at 4 p.m. Helps with getting a good turnout of supporters from both teams. I think that was huge for us. Playing a league game against a pretty good team, it's just kind of nice."
McKibben is ready to venture into the stadium for the first time on Saturday.
"I haven't been in to watch a Dragons' game yet, so it will be new to my players and new to me as well," said McKibben. "I talked to some coaches who have been in it already. It's a great experience. It's fun."
The one thing all are hoping for is good weather on their gameday, so they get a chance to take the field.
"The players, the coaches, even the managers are looking forward to it," said Dorner. "You dream about playing ball in a big yard. It might be the only chance some of the guys might get."

MAC games at Fifth Third Field:
Schedule of Midwest Athletic Conference teams playing baseball games at Dayton's Fifth Third Field this season.

Saturday
New Bremen vs. Jackson Center, 1 p.m.
Coldwater vs. Fort Recovery, 4 p.m.
Sunday
Minster vs. Lehman, 4 p.m.
April 26
New Knoxville vs. Allen East, 3:30 p.m.
Russia vs. Parkway, 7 p.m.
April 27
Fort Loramie vs. Marion Local, 1 p.m.
St. Henry vs. Covington, 7 p.m.

Admission is free to the high school games.