Tuesday, April 1st, 2008
Bulldog netters post shutout in opener
By Mark Ruschau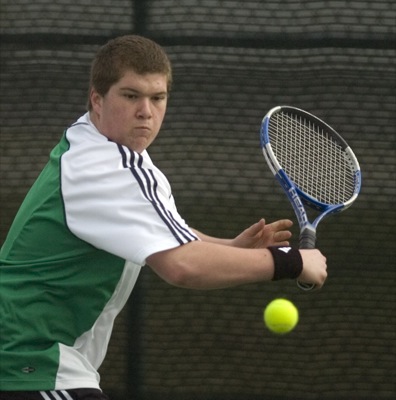 In her preseason remarks about the upcoming season, veteran Celina tennis coach Jan Morrison was concerned about the youth of her squad since the Bulldogs were returning just one just starter and have no seniors.
Monday afternoon Morrison got her first look at her squad and she was pleased after the Bulldogs routed the Sidney Yellow Jackets 5-0 in a nonleague match at the High School Tennis Complex.
"I thought the guys did a real nice job in adverse weather conditions," said Morrison. "I was happy with the consistency of the serving, we missed a lot of first serves but the weather had a lot to with that. We did a nice job, especially the doubles teams, of going to the net."
Happy with the win, Morrison realizes that her young squad has a long way to go and that Monday's match was just a first step in a long season.
"Sidney is a young team just like us. There was not a senior on the court tonight and things are naturally going to get more difficult as we go along," said Morrison. "Tomorrow night we got a match at LCC (Lima Central Catholic) and we know they will be strong. We just have to keep getting better to keep winning."
The lone returning starter from last year, junior Kyle Miller, had won the first set of his match against junior Pat Ho 6-0, but had to rally twice in the second set to pull of the straight sets win.
Miller trailed twice, 3-2 and 4-3 before breaking Ho's serve in the second set and won the last three games to pull out the win.
The match of the day occurred at second singles as a pair of sophomores, Celina's Adam Turner and the Jackets' Ben Powers, battled for three sets and over two hours before Turner posted the win.
In the first set, Powers rallied from 5-4 down to force a tiebreak which he won 7-2. Turner then rallied to rout Powers 6-2 in the second set to force the deciding third set.
Turner took the early advantage as he broke Powers' serve in the first game and took a 2-0 lead as he held serve. After alternating service game wins, Turner was able to break Powers' serve again in game five and coasted to the 6-2 win.
"That was Adams first varsity match as a singles player, he had played a little as a doubles player last year," said Morrison. "He made a giant leap today from second doubles to second singles and he played a pretty good Sidney player today. He learned as he went along and I think he learned a lot out there tonight."
Craig Everman, the Bulldogs' number three singles player, had no problems with Jon Neville, winning in straight sets without losing a game.
The Celina doubles teams also had very little difficulty as the first team of Jay McKirnan and Ty Everman downed Jon Pellman and Donovan Gregory in straight sets, 6-0, 6-0.
In the second doubles match of the day, the Bulldogs tandem of Bryan Robbins and Justin Wenning also won in straight sets, 6-1 and 6-0, over Cole Denise and Mason Anderson.
In junior varsity matches, Trevor Smith won a singles contest while doubles wins were earned by the teams of Alex Roth and Eric Muhlenkamp and Justin Wenning and Nick Rose.